2018 Genesis G80 Introduction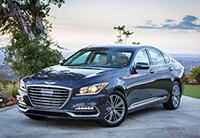 The Genesis G80 is soft, comfortable and quiet, not intended to be a dynamic handler. Genesis is to Hyundai what Lexus is to Toyota, as of 2017, and the G80 rear-wheel-drive luxury sedan shares the Genesis showroom with the larger, more luxurious G90.
For 2018, Genesis G80 gets a twin-turbo Sport model, although it's still a long way from handling like a Lexus.
The 2018 Genesis G80 is revised with new front and rear fascia, tweaked headlamps, an updated eight-speed automatic transmission. Changes in the cabin include a restyled instrument cluster and revised infotainment system, and a rearview camera as standard equipment.
A 3.8-liter V6 comes standard, with a 5.0-liter V8 in the top model. The new G80 Sport gets a 3.3-liter twin-turbo V6.
The 3.8-liter V6 makes a healthy 311 horsepower and 293 pound-feet of torque. The V8 makes 420 hp and 383 lb-ft. The new twin-turbo V6 makes 365 hp and 376 lb-ft of torque.
The base V6 rates 22 miles per gallon EPA Combined city and highway, the V8 gets 19 mpg Combined, and the twin-turbo V6 rates 20 mpg.
The standard warranty is 10 years and 100,000 miles for the powertrain. A standard service agreement includes three years or 36,000 miles of free scheduled maintenance, with free pickup/dropoff and loaner.