2018 Ford Transit Connect Walk Around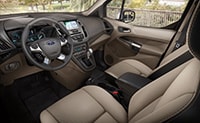 In its second-generation form, the Transit Connect exhibits gracefulness and refinement that were absent from the original version. As a result, it stands above such competitors as the Chevrolet City Express, Nissan NV200, and Ram ProMaster City.
Ford designers managed to achieve a proper balance between functionality and visual flair. Body lines are significantly more stylish than those of rivals.
All vehicles in this category essentially amount to a large box, attached to a carlike front end. Compared to the slab-sided first-generation, which placed practicality above form, the current version exudes considerably greater appeal.
Interior
Excelling in versatility, the 2018 Transit Connect boasts a carlike cabin to complement its attractive exterior. Up front, at least, it feels almost like a compact sedan.
Tight and quiet, the interior is remarkably comfortable for what still amounts to a business-oriented model. The flexibility of the seven-passenger Wagon is especially impressive.
Plenty of buttons dot the dashboard, but overall it's modern and admirably functional. At the same time, controls and displays are appropriate for tougher commercial conditions. Quality of materials is equivalent to a compact car, though some hard plastic components and tough-looking fittings betray its function-focused background. Standard cloth upholstery promises welcome comfort and is breathable,
Because seats are mounted at normal car height, a high step-up isn't needed when entering. However, passengers sit higher than usual. Front seats are comfortable and supportive, while providing more than a foot of head clearance.
Passenger comfort also excels in the rear. Two adults fit easily on the second-row bench, but three will feel more crowded than in a minivan. The backrest of the 60/40-split bench can flip forward, allowing the entire seat to drop into the floor. Two seats in the third row slide and fold flat.
Loading is easier than in any other vehicle of this size, helped by a huge tailgate opening and wide sliding doors on each side. Liftover is comparatively low, too. Twin side-hinged rear doors are available as a substitute for the tailgate, but the doors' central pillars obstruct rearward vision.