2018 Ford Transit Connect Driving Impressions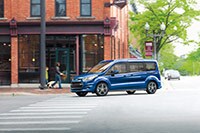 Carlike qualities aren't limited to appearance. Despite its basic identity as a small commercial van, the Transit Connect drives easily and handles like a passenger car.
Though considerably taller than the compact Focus on which it's based, the Transit Connect reflects the responsive handling and well-weighted steering found on that sedan and hatchback. The Wagon, in particular, might well qualify as the more nimble and sporty three-row vehicle on the U.S. market.
Performance isn't as spirited. A Transit Connect can keep up with traffic easily enough, but acceleration falters when it's filled with passengers or hauling heavy cargo.
Fuel economy beats that of full-size vans, but varies depending on wheelbase, configuration, and features. The commercial Cargo Van is EPA-rated at 20/27 mpg City/Highway, or 23 mpg Combined. The Wagon is EPA-rated at 19/27 mpg City/Highway, or 22 mpg Combined. That latter rating applies to both standard and long-wheelbase Wagons.
Transit Connects can accept E85 ethanol/gasoline fuel. Commercial users can order versions modified to accept natural-gas and LPG fuel.