2018 Ford Super Duty Driving Impressions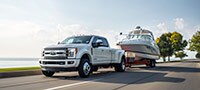 Big and brawny in any form, Ford's Super Duty series is surprisingly high-tech in nature for a work-ready truck. Few workers at job sites are likely to feel short on usable power and strength when piloting an F-250, whether it's gasoline- or diesel-powered. Still, even the 925 pound-feet of torque available from the turbodiesel engine doesn't come into play immediately.
Ride comfort exceeds some expectations, as the current suspension system manages to smooth out a considerable number of pavement imperfections. Load-leveling is not included, however.
With the standard suspension configuration, a Super Duty truck handles about as well as any full-size competitor. Super Duty buyers also have an alternative, to boost the vehicle's nimbleness. Ford's optional adaptive-ratio steering system can speed up or slow down the amount of power-steering assist according to vehicle speed; this improves maneuverability at slower speeds and stability on long straightaways.