2018 Ford Focus Introduction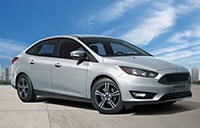 The Ford Focus is an extroverted compact car that handles well and can go uptown. It comes as a four-door sedan or five-door hatchback, in a number of powertrains and trims that broaden the appeal, ranging from economy car to luxury car to muscle car. There's even a Focus Electric model that gets 105 MPGe (miles per gallon equivalent).
The 2018 Focus is in its eighth year of this generation.
The base engine is a 2.0-liter four-cylinder with direct injection and variable valve timing, making 160 horsepower and 146 pound-feet of torque. Those stats don't sound big but there's plenty of pep. The transmission is either a 5-speed manual or 6-speed dual-clutch automatic that has issues. It gets 31 miles per gallon combined.
There's also a turbocharged three-cylinder with the tiny displacement of 1.0 liters, making 123 horsepower, a lot less than the 2.0 liter, but with the same torque. It's less quick but gets 34 mpg with its 6-speed manual transmission (one more gear than the 2.0 liter because it needs it, to keep the revs up). With the available 6-speed automatic it gets 2 less mpg, which is only 1 mpg more than the 2.0-liter engine with the manual. Any advantage to the three-cylinder engine fades in the Focus, although that's not so in the smaller and lighter Ford Fiesta.
As for high performance, the Focus ST hatchback is at the top of the heap of high-performance compacts, with its 2.0-liter turbocharged four-cylinder engine making 252 horsepower and 6-speed manual gearbox. It accelerates to 60 miles per hour in just 6.3 seconds, on its way to a top speed of 155 mph. It has been roundly and deservedly praised as a winner and great performance value.
Then there is the breathtaking Focus RS hatchback with its 2.3-liter turbo making 350 horsepower. To handle that power in the curves, it uses torque-vectoring all-wheel drive with driving modes including Track and Drift.
The NHTSA gives the Focus five stars in its crash tests. The IIHS gives it the top Good scores for most of its tests, but only Acceptable in the difficult small-overlap test.