2018 Ford Fiesta Introduction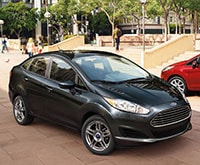 The Ford Fiesta is a tiny car with a tiny engine, but nimble handling makes it fun to drive while its dimensions make it easy to park. Fiesta comes in sedan and hatchback versions. Three engines are available, ranging from frugal to fun.
We prefer the hatch.
The standard engine is a 1.6-liter four cylinder making 120 horsepower that isn't quick but feels peppy enough with the 5-speed manual transmission, if you work at keeping the revs up. The Fiesta only weighs 2600 pounds so that helps. It gets an EPA-rated 31 miles per gallon Combined city and highway with the five-speed. There's also an available 6-speed dual-clutch automatic manual.
The newest engine is Ford's tiny 1.0-liter three cylinder, turbocharged to make 123 horsepower and 148 pound-feet of torque. You still have to keep the revs up, with the five-speed manual gearbox, but the little three-cylinder likes it. Before the engine was put in the Fiesta, it was successful in Europe, where fuel mileage matters a lot because of high taxes on gasoline. The EPA rates it 36 mpg Combined; we got 41.9 miles per gallon on a 350-mile road trip that was two-thirds highway and one-third city.
The turbocharged Fiesta ST is indeed a fiesta when underway, with a 1.6-liter turbocharged engine making 197 horsepower and 214 impressive pound-feet of torque, in overboost mode. It only comes with a 6-speed manual transmission, along with tighter steering, suspension and brakes, with summer tires. A Fiesta ST can easily take on the Mini Cooper S, Hyundai Veloster Turbo, and Volkswagen GTI, three hot hatches. The little hotrod ST gets 29 Combined mpg.
Crash test scores are good with NHTSA and IIHS.
2018 may be the last model year for Fiesta.