2018 Ford Explorer Walk Around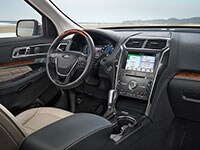 For being in the eighth year of its generation, the smooth styling holds up. It was revised for 2016, so it's not so old, more like distinguished. Distinguished by being classy and subtle, showing restraint at a time when others are going all overboard on edgy and futuristic.
The roofline window-line, from the shoulders up, has timeless beauty. It's the most graceful pillar/roofline in the game. With tinted rear glass and the small roof spoiler, it flows like a hawk.
There's continuous cladding from the front to rear bumpers, over the wheelwells and under the doors, but it's not intrusive.
On a wheelbase of 113 inches, the Explorer is sixteen and a half feet long, and weighs 4900 pounds fully loaded.
Interior
Ford wants the Explorer cabin to be up there with Audi and BMW, and they say they will stay on it until it is. It's at least as handsome as the Jeep Grand Cherokee and Dodge Durango, while being a bit more contemporary, as revised for 2016.
But if it's going to be tops, the infotainment must be tops, and Ford's Sync 3 isn't. It's way better than the previous painful MyFord Touch, but we wish Sync 3 were simpler. It isn't a better alternative to Apple CarPlay/Android Auto.
There are a lot of control knobs and buttons on the dash, intelligently put there for 2016.
With tight door seals, engine mounts that absorb vibration, and acoustic glass all around (except for the Base), it's soft and quiet in the cabin. Forward visibility is good thanks to a high seating position, although there are over-the-shoulder blind spots thanks to those rear pillars. Beauty has a price.
The front seats (heated on most models) are supportive and comfortable, with soft cushions, the right amount of bolstering, and high soft armrests. The rear seats provide plenty of legroom but need more padding; the horizontal cushion is short and slanted awkwardly, and there's not enough width in the center for an adult.
Rear bucket seats are available, which are more comfortable and open the access to the available third row. That reduces the seating capacity to six, but it's a more convenient use that works for many. The dual-panel moonroof really opens things up.
The third row like so many is cramped for adults, but okay for kids, who (if you don't have the rear buckets) climb back there over the forward-flipped second row.
The third row folds forward, with available power, to create a vast 81 cubic feet for cargo with a floor that's nearly flat. There's still 21 cubic feet even with all rows up.