2018 Ford Escape Walk Around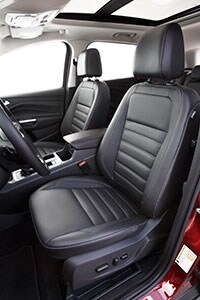 The design and styling of the Escape is very tidy. Compared to the Honda CR-V, it's a few inches shorter with a wheelbase that's nearly three inches longer. Less overhang past the front and rear axles, and a more solid planting on the highway.
The sheetmetal is clean, crisp, pert, stylish, direct and modern. Think outdoorsy millennial.
Interior
The cabin is heavily styled with bold contours, swoopy and finely detailed. It makes other compact crossovers boring. But it's also plasticky.
The swoopy dash wraps around so much that it takes some knee and legroom away from the front passenger, but that's still nearly two inches more than the Honda CR-V. Thick A-pillars steal some forward visibility.
The front seats are slim and firm. The electronic parking brake, small as a button, frees up center console space. There's a horizontal vent under the LCD screen that does a good job of heating and cooling the climate controls and kneecaps. There's a CD player on the center stack.
The rakish profile steals some airiness out of the cabin, but there's still enough left. There's plenty of headroom in the rear, at least without the panoramic sunroof that would make it more airy. The Escape is considered a five-seater but there's only room for two adults, with one inch less rear legroom than the CR-V.
The rear seatbacks and headrests flip down easily, creating 68 cubic feet of cargo space. There's an optional two-position load floor, flat or max storage, with an enclosed big square cargo bin that holds 34 cubic feet. The rear hatch can be opened by swinging a foot under the bumper, with the fob in your pocket or purse.
Ford's Sync Connect enables remote access to the car's functions via smartphone.