2018 Dodge Charger Walk Around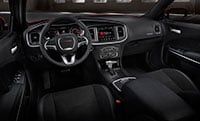 Unlike the Challenger, which is trimmer and more shapely, and still looks great for the times, the Charger's retro boxiness seems to be wearing off. It looks dated. (We wonder ourselves why we think it looks dated, since its whole point is to look retro. But never mind.)
Charger rides on a wheelbase that is four inches longer than that of the Challenger, though the Challenger is only two inches shorter than the Charger.
Charger's low nose with black grille and fascia has a storm-trooper look; that's the Blacktop Appearance Package, available even on the SXT, offering a lot of style for the money.
Charger's profile shows swollen hips, a high beltline, and hard-edged pillars. But its short overhangs and big wheels are contemporary, and the blunt ends make it look more compact. Those big hips, the rear fenders, are smooth and not bulbous, tapering to LED taillamps whose shape dates to the Sixties. At night, a rectangle of red light comes out, piping that traces the perimeter of the rear end.
Each model has its own style. We like the R/T's restrained aggression. The Hellcat gets a new grille and fender badges for 2018.
Interior
The Charger is big, and comfortable for four. Legroom in the rear seat is less than some other full-size sedans, but it's still decent. Headroom is good, although the high window line limits downward visibility out the sides.
The wide front seats with aggressive bolstering are race-inspired. The available retro hounds-tooth cloth upholstery isn't. But Nappa leather is also available. Dodge brags that its top audio system is exclusive to the segment. It's a 552-watt BeatsAudio system with subwoofer in the trunk.
The interior is simple, with above-average comfort, quality and technology. The surfacing is subtle, with soft-touch materials and trim accents in matte metallic. A 7.0-inch display screen is standard on the SXT, while other models use the Chrysler 8.4-inch touchscreen. But the SXT uses the same dashboard, center console, and door materials as the upper models. Which might not exactly be a selling point for them, since they cost thousands more.
The interior is quiet, with an active exhaust system allowing the satisfying soft rumble of the Hemi V8 into the cabin. In reviews of other Chrysler cars with that engine, we've called it plain loud. We think we're right both ways, it depends on the silencing, and the Charger has it just right.