2018 Chevrolet Cruze Introduction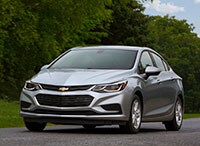 Chevrolet Cruze is an affordable high-mileage compact car. It's easy-going, quiet, comfortable and composed. You'll find more choices in a Chevrolet showroom than any competitor's: Cruze comes as a sedan or hatchback, with automatic or manual, gas or diesel.
Both the 2018 Cruz hatch and the sedan are now available with the 1.6-liter turbodiesel engine.
The hatch was new for 2017, after a redesign of the Cruze for 2016. Also new for 2018 is one color, Satin Steel Grey Metallic.
Standard engine in the front-wheel-drive Cruze is a 1.4-liter turbocharged four making 153 horsepower and 177 pound-feet of torque, which comes with a six-speed automatic or manual. It's EPA-rated at 29/40/33 miles per gallon City/Highway/Combined with the automatic.
The optional 1.6-liter turbodiesel makes less horsepower (137 hp) but way more torque, at 240 lb-ft. It comes with a more sophisticated transmission, as well: a nine-speed automatic.
The turbodiesel mileage competes with the Toyota Prius. The Cruze sedan automatic is rated at 31/47/37, while the manual scores 30/52/37 mpg; that 52 highway could only be explained by a very tall sixth gear in the transmission. That gives the Cruze diesel sedan with the 6-speed manual a 712-mile potential range.
Cruze RS is a sporty appearance package, with special front and rear fascia, spoiler, and 18-inch wheels but no suspension or power changes.
The Cruze earns but four stars from the NHTSA in crash testing, while advanced safety features such as automatic emergency braking aren't available. But many safety features are available, such as blind-spot monitors with rear cross-traffic alert, active lane control, forward collision alert, and automatic headlights. Furthermore, Cruz earned the top Good scores from the insurance industry the two crash tests it performed: side impact and moderate front overlap, which is the difficult test that many cars can't score a Good on. And the Cruze comes standard with 10 airbags and a rearview camera.
The Cruze is made in Lordstown, Ohio. There was a flap in 2016 when candidate Trump made a misleading statement about Cruzes being built in Mexico. The North American Cruze is made in Lordstown, Ohio.