2018 BMW X5 Driving Impressions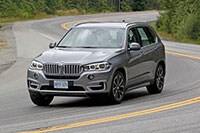 Depending on model, driving an X5 can be surprisingly pleasurable, augmented by a softly comfortable ride: BMW offers several suspension possibilities. Softest-riding is the base model, which could wallow when cornering at higher speed.
Despite weighing about 4,700 pounds, the base X5 can accelerate to 60 mph in a bit more than six seconds. Not only is the six-cylinder gas engine smooth, its strong power delivery begins as soon as the gas pedal is touched. As expected, the quiet V8 version is notably quicker.
Diesel X5s might be in short supply, but the xDrive35d is powerful and refined, as well as fuel-efficient. A larger price premium ($4,250) applies to the xDrive40e hybrid. When fully charged, it can go 14 miles on electric power alone. In automatic mode, the gas engine usually remains off at speeds below 45 mph.
For substantially greater stability when cornering, plus confidence on curvy roads, an adaptive suspension is optional. An M Sport package firms up the suspension and enhances control further yet.
Naturally, 567-horsepower X5 M is the choice for full-bore performance, coupling race-track potential with capability for daily driving. Brakes are heartier, and the suspension firmer yet.
An X5 might look ready for off-road treks, but that's not its main mission. All-wheel drive (xDrive) works nicely on snow-covered roads and milder journeys past the pavement.
Fuel economy is about as expected. The 2017 X5 xDrive35i was EPA-rated at 18/24 mpg City/Highway, or 20 mpg Combined. With rear-wheel drive, the sDrive35i edges up to 18/25/21 mpg. The diesel xDrive35d earns an impressive 23/29/25 mpg estimate.
The hybrid xDrive40e has been EPA-rated at 24 mpg combined, but 56 MPGe (equivalent), based on the amount of energy required to supply the electricity.
The xDrive50i's V8 guzzles, EPA-rated at 15/21 mpg City/Highway, or 17 mpg Combined. Even thirstier is the X5 M, rated at just 14/19/16 mpg. Each X5 has stop/start, which can shut off the engine at stoplights. Early BMW start/stop operation could be annoying, but the current version is less noticeable than some similar systems.