2018 BMW X4 Walk Around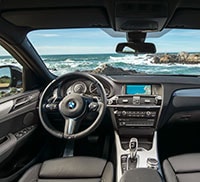 Whether the X4 is primarily a styling statement or a laudably sensible crossover model is debatable. What's not open to dispute is the vehicle's fashionable body contours, especially along the roofline.
Like the larger X6, the X4 gives up some functionality. Based upon the conventionally profiled X3 crossover, the X4 carves away quite a lot of cargo space and some head clearance, in exchange for its dramatic fastback roof.
Athletic in both appearance and approach to sporty driving, the X4 features bulky fenders that can wrap around available 20‑inch wheels.
Interior
Although BMW's upright X3 crossover, from which the X4 was spun off, seats five passengers readily, the X4 barely manages four. That's because the sloping roofline slashes at least 2 inches of rear-seat headroom, compared to the X3.
Deeply sculpted back-seat indentations for two persons affirm that the X4 isn't meant for families. Legroom also is in short supply, but head space is the main concern.
Front seats, in stark contrast, rank above average. To obtain more sporty seats with good support, comfortable for a broad range of body types, the M-Sport package can be added. Front seats also are sportier in the M40i edition.
Cargo capacity also is significantly compromised by the coupe‑like roof. Volume totals 17.7 cubic feet with second-row seats upright, but the cargo hold is oddly-shaped. With those back seats folded, capacity expands to 49.4 cubic feet.