2018 BMW X4 Introduction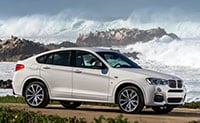 The BMW X4 is a swoopy, low-roofline SUV, smaller than the X6 that helped establish the Sports Activity Coupe trend a decade ago. Introduced for the 2015 model year, the X4 is unchanged for 2018. A redesigned X4 is expected to debut as a 2019 model.
In addition to its compelling shape, the sport-luxury X4 delivers strong performance. Two distinct versions are offered, each with all-wheel drive. In the X4 xDrive28i, a turbocharged 2.0-liter four-cylinder engine makes 240 horsepower and 260 pound-feet of torque. That's sufficient to yield 0-60 mph acceleration in about six seconds.
For swifter, more stimulating performance, BMW developed the X4 M40i, packing a turbocharged 3.0-liter inline six-cylinder engine that generates 355 horsepower and a burly 343 pound-feet. In less than five seconds, the M40i blasts from a standstill to 60 mph. Both models use an impressively competent 8-speed automatic transmission.
Porsche's Macan is a prime competitor, with comparable specifications. One downside of the X4 stands out: the back seat is short on space, especially for passenger heads. Entry into the rear compartment is a tad challenging, too. That's the price to be paid for the lush curves that flow along the roof.
Neither the Insurance Institute for Highway Safety nor the National Highway Traffic Safety Administration has crash-tested the X4. A rearview camera is standard, but many advanced safety features are offered only in expensive option packages.
Adaptive cruise control, lane departure warning, and forward collision warning with automatic emergency braking are available for a fairly reasonable $1,200 additional. Blind‑spot monitoring, a head‑up display, and speed-limit display go for $1,700. Parking sensors and a surround‑view camera system add $700.
Because the X4's low roof pillars and obstructed rear hatch roofline affect outward visibility, blind-spot monitoring is an especially prudent addition.
For the category, the X4 looks marvelous outside, with an interior that's not far behind.