2018 BMW X4 Driving Impressions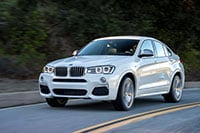 Since the X4 is a BMW, ride and handling qualities are sure to satisfy the enthusiastic driver. All the more so if that driver is behind the wheel of the M40i, which is particularly adept at breezing briskly through highway curves and corners.
Performance, too, strikes a compelling chord, no matter which engine is beneath the hood. Neither engine feels underpowered; but again, the M40i edition makes its potent turbo six-cylinder engine spring forcefully into action.
For vehicles in this category, driving fun isn't always a strong point. Not only does the M40i's inline six excel in power delivery, it comes on strong when responses are called for, and it backs down calmly when more sedate cruising is the goal.
BMW's smooth-shifting 8-speed automatic transmission is so carefully tuned, it almost seems to know in advance exactly when it will be called upon to downshift. Even manual-shift fans are likely to nod in agreement over this automatic's prowess.
Like any conventional-style performance SUV or crossover, the fashionable M40i doesn't conceal its tall ride height. Essentially, it could be said that the driver sits atop the vehicle, rather than within it.
Standard all-wheel drive ordinarily splits power in a 40/60 ratio, front/rear, but can send every bit of it to the back wheels, if needed. A performance controller can split torque side-to-side, too. Unlike some AWD systems, BMW's is intended for off-road use.
Optional adaptive dampers produce firmer suspension responses, enhancing comfort and flexibility.
As for fuel economy, the base X4 xDrive28i is EPA-rated at 20/28 mpg City/Highway, or 23 mpg Combined. The X4 M40i manages only 18/25 mpg City/Highway, or 21 mpg Combined.