2018 BMW 7 Series Introduction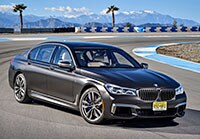 The 2018 BMW 7 Series comes with more semi-autonomous driving features than before. Otherwise, the BMW 7 Series carries over unchanged for the 2018 model year. 2016 brought an engineering leap, perfecting the balance at 50/50 and saving weight by using tricks from the i electric car: carbon fiber in the chassis, and aluminum in the doors, trunk lid and suspension.
The 7 Series cars are sporty and comfortable to drive. Some models are available with rear-wheel drive or all-wheel drive.
The BMW 740i uses a twin-turbocharged 3.0-liter inline-6 making 320 horsepower, a sweet engine. The BMW 750i packs a 4.4-liter twin-turbocharged V8 making 445 horsepower, mated to a silky 8-speed automatic transmission, pulling zero to sixty in 4.3 seconds.
There's also a new 740e plug-in hybrid that mates a 2.0-liter turbocharged four-cylinder with a 9.2-kilowatt hour battery to get a total of 322 horsepower. All-wheel-drive is standard. We've found the 740e to be very relaxed because the hybrid system is seamless. But it's burdened by additional weight of about 400 pounds. BMW says it can travel 23 miles on all-electric power.
The Alpina B7 xDrive uses the 4.4-liter V8, and is fitted with Integral Active Steering that combines variable-ratio electric steering at the front axle with active steering on the rear axle. This helps to blast the Alpina from zero to sixty in a supercar-like 3.6 seconds.
With its V12 engine, the M760i xDrive is nearly as quick, with zero to sixty performance of 3.9 seconds. The twin-turbo V12 makes an awesome 600 horsepower and 590 pound-feet of torque.
On all models, Driving Dynamics Control sets the steering, throttle, shock absorbers and transmission, to three modes: Sport, Comfort and Comfort Plus. A complex system called Active Comfort Drive with Road Preview adds anticipatory functions to the active chassis with air suspension, while the Integral Active Steering (variable-ratio rear-wheel steering) now comes with all-wheel drive. The automatic transmission downshifts on its own, based on what the navigation system tells the transmission about the road ahead, for example a hill.
The 740i gets an EPA-rated 23 Combined miles per gallon with all-wheel drive, or 24 Combined mpg with rwd. The 750i gets 19 Combined mpg with awd, 20 mpg with rwd. The 740e gets 27 Combined miles per gallon, using all of its 23 miles of electric range.
The 7 Series hasn't been crash-tested because it's a low-volume product. Standard safety equipment is bountiful, from active headlamps to active headrests to rearview camera. Optional safety equipment includes everything from night vision to a watchdog sensor that flashes a coffee cup if it sees you getting tired.
Driver Assistance Plus Package II includes adaptive cruise control, active lane-keep assist, Side Collision Avoidance, and Traffic Jam Assistant. It provides semi-autonomous driving, following cars ahead and providing steering assistance to keep the car in its lane.