2018 BMW 7 Series Walk Around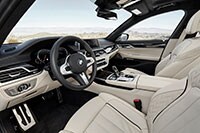 The 7 Series styling is classic again, after more than a decade of BMW pushing boundaries with wedges and swirls. There's a formal profile, lots of glass, and clean sheetmetal. The nose is fairly blunt, with a proud kidney grille that actively manages airflow, behind the grille. The beltline from hood to taillamps is beautiful. Chiseled brightwork runs low along the sides, lifting the car.
Interior
Now it's the cabin's turn to push boundaries, by maximizing and exaggerating BMW design themes, taking ideas from the futuristic i8. The instrument panel is like a horizontal shelf, its formality enforced by satin-metallic brightwork on the knobs, many of which change temperatures for the comfort of your fingertips. It might be called retro-futurism. You'll want to linger there.
The corners are pushed outward to make more space in the cabin, and the rear is limo-like, luxurious for two (who might be optionally ventilated and massaged), but room for three. Superb front seats hit the sweet spot between comfort during hours in the saddle, and support in the twisties.
The interior wood and diamond-stitched leather is the highest quality, as expected from BMW. Heated armrests, front and rear. Ambient carpet lighting standard. Fragrance is available, under a panoramic LED roof.
Although late to the theater, BMW does touchscreen now, to the max. The iDrive 5.0 uses a 12.3-inch landscape-oriented screen. Still, some people don't like all those finger-smudges a touchscreen collects. So on the 7 Series there is also the familiar iDrive controller, now with a handwriting touchpad (also steering-wheel controls and voice recognition).
More futuristically, iDrive also now has Gesture Control. There's a 3D sensor in the iDrive knob, and you just flash the sensor one of five hand signals, to get the sound system volume raised or lowered, answer or don't answer the phone, or browse a 360-degree of the cabin. The system is a bit slow.
The Bowers & Wilkins surround sound is certainly not dull, with 1400 watts and 16 speakers. Nor is the head-up display. The standard Adaptive Headlamps don't just turn with the car, they consider speed, steering angle and yaw.