2018 BMW 7 Series Driving Impressions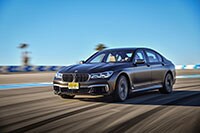 The 740i is our favorite. With 320 horsepower and 330 pound-feet of torque, the 3.0-liter twin-turbo inline six-cylinder engine isn't the quickest but it's the sweetest.
The 740e hybrid performs well enough, but it's a four-cylinder. We're not ready for a 2.0-liter four in a full-size BMW, even if it is enhanced with an electric motor. Besides; its 27 mpg vs the 740i's 23 mpg isn't enough of a difference for us, and that 27 mpg is only if you use up 23 miles in all-electric first.
As for the 4.4-liter V8, it's strong, but it's not the best V8 out there.
The B7 Alpina and the M760 with its V12 engine are in another league, more expensive and less practical.
In Sport mode, the active anti-roll bars keep the 740i fairly flat in fast corners, and help this car feel unlike any 4600-pound sedan you've ever driven. The power is responsive, the light steering is made heftier and quicker (some might think too quick), and there's road feel without rigidity, although sharp bumps get through the low-profile tires.
Due to its considerable mass, the 7 Series is not exactly nimble, but it changes directions easily. The electric power steering is light and direct; in Sport mode it can actually feel too quick for everyday driving.
With double-wishbone front and five-link rear suspension, all with active air dampers, any 7 Series can be set for firm or comfortable; the ride height changes with the settings. Sport mode makes the ride choppy, especially with the big wheels and low-profile run-flat tires. Comfort mode backs off on the aggression and smoothes out the ride, while Comfort Plus makes it buttery for rough streets or bumpy highways.
The chassis combines high-strength steel, aluminum, and carbon-reinforced plastic. Lighter suspension pieces reduce unsprung weight by 15 percent, a significant step in the chase of good handling. The latest bonding methods add thermal and acoustic insulation, reducing the amount of sound insulation needed thereby reducing weight.
The 8-speed automatic transmission is linked to navigation data, making the shift characteristics change with curves and terrain. The transmission itself excellent, though we're not sure about navigation-based shifting. To save fuel, it coasts at speeds up to 100 miles per hour. To improve EPA ratings, an automatic Stop-Start feature turns off the engine when the car stops, then back on again when it's time to move. BMW was the first with this system, but is not noted as being the smoothest.