2018 BMW 6 Series Introduction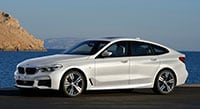 The rear-wheel-drive BMW 6 Series is a luxury cruiser available in a choice of body styles. The four-door 6 Series Gran Coupe and two-door Convertible continue unchanged for 2018. The two-door Coupe has been discontinued. There's also a luxurious Alpina B6 Gran Coupe and a high-performance M6 versions of the Gran Coupe and Convertible.
The 6 Series Grand Coupe and Convertible were facelifted for 2016, but the current generation traces back six years.
A new four-door Gran Turismo joins the 6 Series, but it's related more closely to the 5 Series than it is to the other 6 Series models.
The 6 Series offers a choice of drivetrains: Base engine in the BMW 640i is a turbocharged 3.0-liter inline six-cylinder making 315 horsepower and 330 pound-feet of torque, enabling it to accelerate from zero to sixty in a quick 5.3 seconds. The engine in the BMW 650i is a 4.4-liter V8 making 445 horsepower and 480 pound-feet of torque, enabling it to accelerate from zero to sixty in a super quick 4.3 seconds. Both engines use an 8-speed automatic transmission.
The M6 uses a 4.4-liter twin turbo V8 that can go 186 miles per hour with the Competition Package. A 7-speed dual-clutch transmission is standard, but a six-speed manual gearbox is available. Imagine that. Imagine it in the convertible. Doesn't get much cooler than that.
All-wheel drive, which BMW calls xDrive, is available. Rear-wheel drive is standard on the 6 Series.
The BMW 640i gets an EPA-rated 21/30 miles per gallon City/Highway, 24 mpg Combined.
The 6 Series hasn't been crash tested, and won't be because of the price and low volume; but it's safe to assume it's safe. And there's much available safety equipment, including forward collision warnings with automatic emergency braking at city speeds, blind spot monitors, surround-view camera system, lane departure warnings, night vision cameras with pedestrian detection, and active steering assistants.