2018 BMW 6 Series Walk Around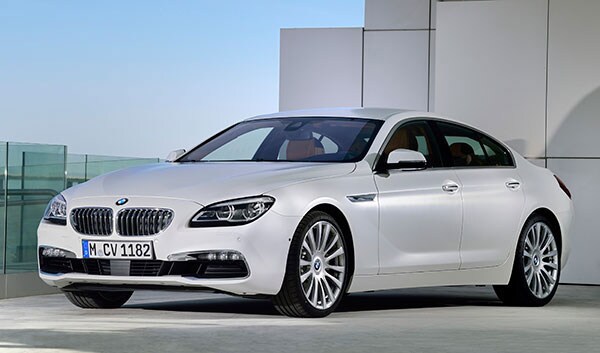 The 6 Series is evocative. It's low-slung and wide-shouldered, athletic and confident, yet still somehow understated. The nose creases tightly into the nine-slat kidney grille, flanked by bold headlamps and big air intakes. A taut and finely rendered hood reaches upward over the sleek windshield to the arching roofline. Its elegant curves and flared fenders lower the window line, at least to the eye. The rear is sleek, simple, and modestly tucked.
The powerful M6 is quite subtle in its changes, mostly a body kit and badging. If it were parked beside a 650i you could see a difference, but otherwise you'd pretty much have to look for the badging.
Interior
There cabin is business-like, seems almost stark. But it can border on exotic, with white leather and fine woods.. It's well appointed, both low-key and high-tech, but ruled by order and restraint; rich muted shades of many available materials, textures and colors. The plastics and leather present a visual and tactile sensation. It can be made as bright and plush as the 7 Series.
There's room to stretch up front, with power seats that adjust in many ways and directions. The M Sport package offers multi-function sport seats with more support in the backrest and thighs.
Even though it's a four-door, the Gran Coupe is more suited for two people. In the rear, legroom is tight and headroom is low, because of the sloping sensuous roofline. Taller passengers will have to duck to climb in and out, and buckle their knees once they're seated. For four occupants, the 5 Series or 7 Series is the way to go. Maybe the new Gran Turismo with a stretched interior will change that. We haven't driven it yet.
The GT might also have more cargo space, although the Gran Coupe's trunk is big, at 16.2 cubic feet. Convertibles have 12.3 cubic feet the top up and 10.5 with it down.
The Convertible's back seat is best for kids on a fairly short top-down ride. But it has the best convertible top in the business. The folding fabric top raises or lowers in 20 seconds at 25 mph, and stows under a metal lid. It's well insulated, and the glass rear window can be opened like the old convertibles that used a zipper around canvas that always shrunk and stuck the zipper. People would drive around with their convertible rear window permanently flopped down, and rainwater would make pools that would slosh into the rear seat if the driver put on the brakes too hard.
These are better days. The BMW convertible top looks way classy. As long as it's not blue. No hardtop convertible needed.