2018 BMW 3 Series Driving Impressions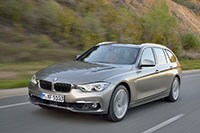 BMWs are known for good handling, so it's no surprise that you get a sharp turn-in, nicely weighted steering, and flat cornering in every type of 3 Series. The old hydraulic power steering gave more feedback than the current electric power steering, but that's true with almost every car, and you can't hold back progress.
The 3 Series also offers a smooth ride, with a suspension that's tuned for run-flat, high-mileage tires. If there are any sharp edges over bumps, it's probably from the tires.
Acceleration-wise, the 320i with its 2.0-liter four-cylinder turbo making 180 horsepower and 200 pound-feet of torque feels weak compared to the others, running from zero to sixty in 7.1 seconds.
The 330i uses the same engine tuned to make much more horsepower and torque, 248hp and 258 lb-ft. And it shows, as the 330i will make the same sprint in 5.5 seconds, and sound better doing it.
The 340i with its 3.0-liter turbo six is way fast and talented, with big torque available at a wide range. We love that it's a classic inline six, not a V6.
The most common transmission in these three models will be a smooth eight-speed automatic, but lo and behold, a six-speed manual remains available. BMW knows its buyers are drivers, and isn't about to let them down, at least not yet. We like to think of ourselves as drivers, but still … the eight-speed automatic is pretty desirable. Its shifts are quick, precise, confident, and correctly timed.
The 328d makes 180 horsepower and another ton of smooth torque, with the standard eight-speed automatic. With its high mileage, its best fit seems to us to be as a family wagon.
The 330e iPerformance plug-in hybrid makes 248 combined horsepower from a 7.6-kwh hour lithium-ion battery and turbo four engine.
The Driving Dynamics Control modes are Eco Pro, Comfort, Sport, and Sport Plus. Sport mode sharpens the steering and transmission, while Sport Plus loosens up the stability control.
There's an optional variable sport steering system that mechanically alters the steering ratio depending on the immediate task, making parking easier and high-speed cornering tighter.
Finally, for more aggressive cornering, the M Sport package lowers the chassis by 0.4 inches, stiffens the springs and shocks, fattens the anti-roll bars, and uses 18- or 19-inch alloys with fat tires. And for the most aggressive cornering, the Track Handling package adds the variable sport steering, adaptive suspension, and bigger brakes with blue calipers.