2018 Audi R8 Introduction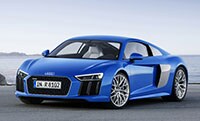 The mid-engine all-wheel-drive Audi R8 came on the scene in 2008, sharing structures with the Lamborghini Gallardo. R8 was developed from the racing cars that won Le Mans and other international sports car endurance races. It needed that pedigree to compete against cars like the McLaren 650S, Mercedes-Benz AMG GT, Porsche 911 Turbo and Corvette Z06. And now the new Lexus LC 500 and Acura NSX.
Since then, the R8 has gotten better, while enhancing its civility and capability as a daily driver, with a supple ride and fully finished cabin. The 2017 model year began its second generation, restyled and with a new platform built on the Modular Sportscar System (MSS) that's under the Lamborghini Huracan. It's an aluminum monocoque spaceframe that uses carbon fiber in the firewall and backbone tunnel for torsional rigidity, aided by two big X-shaped engine braces, over and behind the engine. The new chassis was 70 pounds lighter, as well as stiffer.
For 2018, R8 gets a new Audi Sport badge on the front fascia. The 2018 R8 V10 Plus has LED headlamps with the distinctive Audi laser design. There's a new optional appearance package called Black Optic, with a dark interior, dark exterior accents, and 20-inch wheels. The interior inlays in all 2018 Audi R8 models get a bit darker.
Audi R8 comes as a Coupe or Spyder convertible.
Two versions of the 5.2-liter V10 engine are offered, the standard one making 540 horsepower and 398 pound-feet of torque, while the V10 Plus makes 610 hp and 413 lb-ft. Both engines are mated to an S Tronic 7-speed dual clutch transmission. Audi invented the dual-clutch automatic manual transmission in its early racecars, and remains the leader in the technology.
The R8 can be so mild a granny could drive it (in Comfort mode), but in Dynamic Mode it flies, from zero to sixty in 3.5 seconds. The V10 Plus takes just 3.2 seconds, using Launch Control to keep the tires from spinning.
It rates 17 miles per gallon EPA Combined, with the engine using deactivation down to five cylinders, and port injection, which efficiently manages the throttle mixture.
It hasn't been crash tested because the NHTSA and IIHS don't destroy expensive low-volume cars, but R8 offers race heritage and a monocoque chassis, not to mention extra airbags in the doors and roof.