2018 Audi R8 Driving Impressions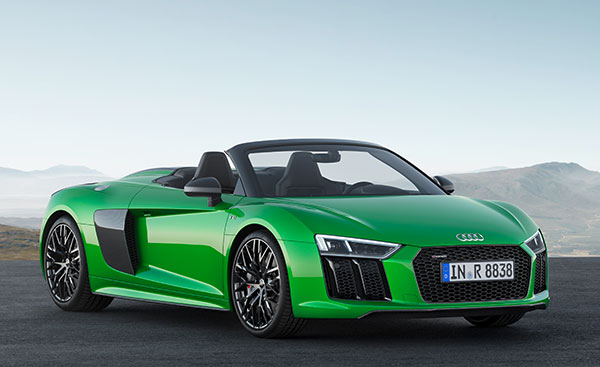 With Audi's Dynamic Select modes, the character of the car is flexible and versatile. In Comfort or Auto, it's relaxed and very easy to drive. In Dynamic or Performance (which shuts off the traction control) mode, the R8 is ready for the track, ready for a top speed of 199 mph for the V10 and 205 mph for the V10 plus. In Dynamic mode, the throttle response is quicker and so are the gearshifts; the dual-clutch transmission also holds the R8 in each gear for a longer time.
The S Tronic dual-clutch gearbox makes shifts that are perfect for everyday driving. There's always power to spare, linear and constant, not arriving with a burst, like a turbocharged or supercharged car.
The V10 has plenty of reserve power. Unlike a turbocharged engine, the R8's V10 delivers smooth, linear grunt through the entire rev range. It's easy to hit the automaker's 0-62 mph estimate of 3.2 seconds for the V10 Plus and 3.5 seconds for the standard R8 thanks to the standard launch control system.
The acceleration from 0 to 60 in 3.2 seconds will push your eyeballs back into your skull. They will pop back out onto your cheeks when you hammer the brake pedal with the optional big carbon ceramic brakes. They demand a light touch on the street; in fact, we think they're too sharp for the street.
There is a sailing mode eliminates engine braking at low speeds in Comfort mode. We like the feature because it rewards smooth driving, and lets the driver think for himself.
The available active dynamic steering is quick and precise, but too light for us.
Turning into a corner, the response is quick. If you enter a turn too quickly the R8 will understeer, and if you accelerate too hard through the turn it will oversteer, even in all-wheel drive, which raises the cornering limits. So it's not idiot-proof. But the good news is it's forgiving, maybe thanks to the all-wheel drive sending power to the front wheels to get the driver out of trouble. And the grip of the Pirelli P Zero tires is awesome, enough to give idiots extra room. Of course, even the best grip does not go on forever, so when the P Zeros say enough is enough, it's possible to come to grief, but still not likely, as the R8 recovers with neutrality and obedience.