2018 Audi Q3 Introduction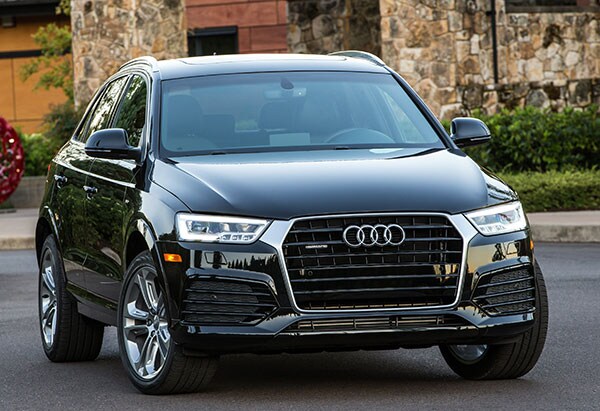 The Audi Q3 is a five-seat crossover with nubile styling that aspires to be elongated, like its big brother the Q5. All-wheel-drive subcompact crossovers have become popular, and the Q3 now competes with the BMW X1, Mercedes-Benz GLA, Mazda CX-3, and Fiat 500X, to name a few. The Q3 is more compact than them, though not as small as the Range Rover Evoque. At 172.6 inches, it's only a foot longer than a Mini Cooper hatchback.
The 2018 Audi Q3 is in the fourth year of its second generation, and continues unchanged.
There is one powertrain, a turbocharged 2.0-liter four-cylinder making 200 horsepower and 207 pound-feet of torque, mated to a 6-speed automatic transmission. It handles well, although its engineering priority is ride and comfort, over crisp cornering. For a compact, its fuel mileage is low, with an EPA-estimated 20/29 mpg City/Highway, or 23 mpg Combined. Luxury cars get that nowadays.
The Q3 rates top crash-test scores from the IIHS. A rearview camera and parking sensors are standard, while options include blind spot monitor and automatic park assist.