2018 Audi A8 Introduction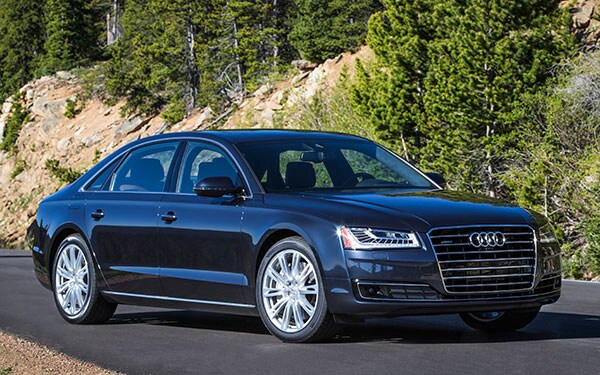 Audi A8's laurels are led by its aluminum space frame, stiff and light. It's a very refined sedan, a strong and sometimes favored contender against whatever Mercedes-Benz or BMW want to throw at them. A relatively dated product, its stylish contour keeps it looking fresh, even though 2018 is the last year of this generation, and brings no changes.
An all-new A8 is coming for model year 2019.
The A8's wheelbase is long, making a better ride and more room in the back. The high-performance Audi S8 uses a shorter wheelbase that used to be under the A8.
Base engine is a supercharged 3.0-liter V6 making 333 horsepower and 325 pound-feet of torque. It's relatively thirsty, EPA-rated at 22 miles per gallon Combined.
If want to get less fuel mileage than that, the 18-mpg engine is a twin-turbo 4.0-liter V8 making 450 horsepower and 444 pound-feet; that one brings a breathless zero-to-sixty time of 4.4 seconds. Both engines mate with an 8-speed automatic transmission and Quattro all-wheel drive. For extra chassis balance, there's an available dynamic handling package with sport rear differential.
The Audi S8 slams 605 horsepower on you. It's a twin-turbo 4.0-liter V8 that adds 517 pound-feet of torque. Needless to say it brings a rousing road experience, especially strapped into the deep Valcona leather bucket seats, as you accelerate from zero to sixty in 3.7 seconds that will most certainly be startling.
The S8 has LED lighting, 21-inch wheels, quad oval tailpipes, adaptive dampers and air springs. Its trunk is small for a full-size sedan, and rear leg space is limited by the short wheelbase. But it has 605 horsepower.