2017 Toyota Corolla Walk Around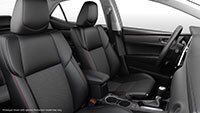 Toyota calls the Corolla design Iconic Dynamism. Well. If you want to make your journeyman transportation sound special, feel free to tell admirers your sedan is iconically dynamic. We won't argue. It is an icon, and, for what it is, it's not bad looking, for being nose-heavy. It's got a big chin.
Its wheelbase is long for a compact car, and the stance is wide. That gives good interior room and suggests sporty handling. The windshield is steep, giving a hint of wedge to the profile, and the window line turns up behind the rear doors. There are contemporary LED headlamps and running lamps. And the XSE and 50th Anniversary Edition aren't afraid to go out there, with a black grille that says small sports sedan.
Interior
The split level dashboard pushes the corners away from the passengers toward the windshield, which adds to the already spacious interior. The surface of the dash is soft-touch with molded-in stitching, which looks good against the subtle pinstriped accents in contrasting colors on the dash and door panels. It's a fresh touch, which is what any icon struggles to find.
Interior refinement and the quality of materials is good. Engine noise is isolated well. The seats are nice enough, less firm than some competitors such as the Honda Civic. One thing about the Corolla is a relaxed, natural driving position. The SE and XSE get more bolstering. In the rear there's excellent legroom, however the seat is narrow, so three adults can't fit comfortably.
No hatchback, but the 60/40 rear seat folds for cargo, and the decent-sized 13-cubic-foot trunk opens wide and has a low floor.
There's good outward visibility, and a rearview camera is standard in most models, but not all of them, as we think it should be.