2017 Toyota Corolla Driving Impressions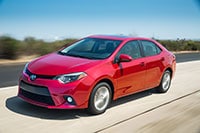 The 132 horsepower and 128 pound-feet of torque in the Corolla propel it quickly enough to hold your own on the freeway. The available Valvematic engine with variable valve timing makes 8 more horsepower, and it's not so much the horsepower but rather the range that makes it worthwhile; that's what vvt does, allows good response at any rpm.
The base Corolla L comes with a four-speed automatic that belongs back in the Seventies. It shifts slow and the ratios between gears are wide, and ultimately might not save much money anyhow, because the fuel mileage is lower than with the CVT. If it works for you, you're probably wasting you money on a new Corolla. Buy a used one, there are good values out there.
As for the CVT, it can feel sluggish at low speeds because of its tall starting gear ratio, especially uphill or with the extra weight of passengers. But acceleration and response improves when you get going. When you take off casually, you probably won't notice.
And there's always a six-speed manual transmission available in some models, including the base L, which makes the model a reasonable low-cost option, just not with that four-speed automatic. The shifts aren't as precise as a sport sedan's shifts are supposed to be (but it's not a sport sedan), and the throws are fairly long. But the clutch feels good, nice and light. It's easy to drive around town, with a lot of shifting.
The Corolla uses an old-school tried-and-true torsion-beam rear suspension that's good enough for this car, and produces an admirable ride and solid handling for a compact car. The bushings are designed in a way to keep down the noise, vibration, and harshness. But because it's not independent, the bumps and bounces one one side are transferred to the other, so that admirable ride has its limits.