2017 Smart ForTwo Introduction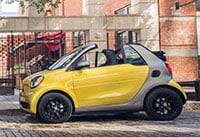 Completely redesigned, it was all-new for 2016, so the 2017 Smart ForTwo carries over unchanged.
The big news for this tiny car for 2017: Smart ForTwo Cabrio is back, with a power-controlled cloth roll-back top. It's a teensy roadster.
This is the second year of a redesign of the Smart ForTwo that made it four inches wider and extended the wheelbase a touch, without making it longer. It also got more standard features and an array of options. There are four models, Pure, Passion, Prime, and Proxy.
Bottom line on Smart: If parking in tight spaces is your highest priority in owning a car, then Smart is for you. With a turning circle of 22.8 feet and length of 8.8 feet, the Smart ForTwo will squeeze easily into the small spaces of a big city. If you never need cargo space, the Smart is for you. If don't mind paying for high-octane premium fuel to get 89 horsepower, the Smart is for you.
The Smart uses a turbocharged 0.9-liter three-cylinder engine mounted between the rear wheels and lying on its side. It makes 89 horsepower and 100 pound-feet of torque, with a 5-speed gearbox standard, or available 6-speed dual-clutch automatic. Smart says four out of five buyers take the automatic. It accelerates from zero to sixty in 10.1 seconds.
EPA-rated Combined city and highway fuel mileage is 35 miles per gallon.
We're not sure why the Smart Fortwo hasn't been crash tested by either the National Highway Traffic Safety Administration (NHTSA) or the Insurance Institute for Highway Safety (IIHS). All models come standard with eight airbags, as well as electronic Crosswind Assist, which helps keep Smart straight in the wind. Forward-collision warning is available as an option.
We found the build quality to be good, with no squeaks or rattles. The Smart ForTwo is built in France.