2017 Porsche Macan Driving Impressions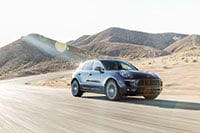 The impressive 273 pound-feet of torque in the 2.0-liter engine comes on at 1600 rpm and lasts until 4500 rpm. And zero to sixty in 6.1 seconds is good, maybe not Porsche great, but okay.
The Macan S gets 339 pound-feet of torque from its 3.0-liter V6. For this model, and the others, there's an available Sport Chrono package that brings quicker throttle response and transmission shifts, not that the 7-speed dual-clutch transmission dithers.
Macan GTS raises the horsepower of the S from 340 to 360. As for the Turbo, the larger 3.6-liter engine brings a massive 406 pound-feet of torque and 400 horsepower.
We drove the base Macan and found it handles beautifully, responsive and brisk into corners, and powering out of them with a touch of torque to the outside rear wheel. But if beautiful handling isn't enough, and you have the money, you can upgrade with three-mode adaptive shocks, a torque-vectoring system to tighten the cornering lines, with an electronically locking rear axle differential that evens the power on the road. Also don't forget to add that Sport Chrono package just so it's sharper.
The standard 19-inch wheels carry wide tires, 235/55 front and 255/50 rear, but you can size up to 21, or down to lightweight 18-inch wheels at no cost. We like that latter idea, believing that 18-inch wheels are big enough for a compact crossover, especially if they weigh less (unsprung weight).
The Macan Turbo brings scalding acceleration, effortless grip, and impeccable balance, while popping off a lot wastegate noise and a deep-throated exhaust note. It's impossible to get it flustered. Paddle down and crank out of a corner, and it shuffles torque to the outside wheel after a moment of mild understeer.
The brakes are massive 14.2-inch rotors with six-piston calipers, same as the GTS and a half-inch larger in diameter than the other two models.
That air suspension with adaptive shocks isn't just for lowering the car to make loading heavy things easier; it also raises the ground clearance from 7.5 to 9.08 inches. So it's pretty much necessary if you take the Macan off road, where, almost amazingly, it's comfortable. All Macans have an off-road mode that reprograms shifting patterns and torque distribution at speeds up to 50 mph. And with 7.8 inches of ground clearance and hill-descent control, the Macan S will follow a Land Rover Range Rover Evoque into and back out of the nearest bog.
The air suspension also lowers the car by 0.59 inches for better aerodynamics and fuel mileage at freeway speeds.