2017 Nissan GT-R Introduction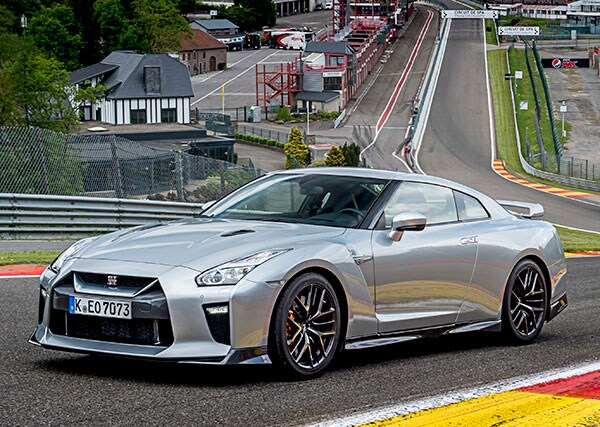 The Nissan GT-R, with its twin-turbo 3.8-liter V6, is one of the world's highest performing sports cars. Name the cars that can match its acceleration of zero to sixty in 2.7 seconds. Name the cars that can match the handling that's one result of its amazing grip from its advanced all-wheel-drive system. Name the cars that have a nickname like Godzilla. It's feared by cars like the Porsche 911 Turbo, Corvette Z06, and every Mercedes AMG and BMW M made.
When Godzilla rose out of Japan a decade ago, it was a raw beast, but no more. Well, it's actually more of a beast, if you define beast by power; but today the ride is smoother, the steering easier, and interior quieter. And the latest model is the best ever. For 2017, Godzilla gets new styling, new infotainment, new interior, and all-around new refinement.
The 2017 Nissan GT-R benefits from another 20 horsepower, bringing total output to 565 hp, along with four pound-feet of additional torque, making 467 lb-ft. Changes to the ignition timing and turbo boost make the power. Nissan says the 2017 GT-R accelerates stronger above 3200 rpm.
The predictable handling and livable ride are a result of its rigidity, springs, and special Bilstein DampTronic dampers. The all-wheel-drive system is biased to the rear, but can send 50 percent of the torque to the front wheels. It uses a fast dual-clutch transmission. There are several driving modes, including R for Race.
Like the Porsche 911, the GT-R actually seats four people, even if the two in the rear have to be small, or scrunched down. If you need a sports car that seats four adults, you'd have to go for a car like the Maserati GranTurismo.
Being a rare supercar, the GT-R hasn't been crash tested by the federal government or the IIHS. Its electronic stability control has several levels, from conservative in the wet to full off, for the track. The main thing, if you make the right setting choices, it will help you.
For 2017, the GT-R also gets a new color: Blaze Metallic Orange. Just in case you missed it the first time.