2017 Nissan GT-R Driving Impressions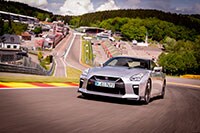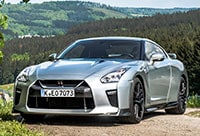 The GT-R is so fast that the driving experience can feel like a video game, except with consequences when you cross the line. In the real world, this Nissan can outrun supercars costing twice as much. It's quicker to 60 than most cars this side of a Bugatti Veyron, and it has a reported top speed of 196.
It's a brilliant road car as well as an awesome track-day car. The firm ride is more forgiving for 2017, especially in Comfort mode. Shifting is quick and crisp. Steering is relatively light at low speeds, without the need to make small corrections at highway speeds.
It's a nice highway cruiser: Switch to the comfort settings, shift into sixth, relax and listen to the two turbochargers whistle. The exhaust is relatively quiet, not the expected boy-racer growl, instead it's a subtle rumble. It doesn't have the refined scream of a 458 Italia or the deep burble of a Shelby GT500. It's between these and quieter. Wind noise is present, but not too intrusive.
The all-wheel drive varies torque from 100 percent to the rear to 50/50, depending on tire slip, steering angle, lateral acceleration, yaw rate, road surface, speed.
The GT-R has adjustable suspension, transmission, and stability-control settings to make it work as a commuter car. But in R for Race mode, it's life-changing experience. You push the GT-R into long corners at triple-digit speeds, and feel almost relaxed as it handles the curve without effort. When it's time to slow down for a hairpin, the big Brembo brakes, six pistons in front and four in rear, will do the job.
The traction control is easy to use. Set all three to Race, depress the brake pedal, floor the accelerator, and the engine hovers at 4500 rpm. Release the brake and the car launches with a slight squeal of the tires. Power is distributed to the tires with the best grip.
Pushed to its handling limits on a racetrack, the GT-R tends to understeer, a trait we noticed at Mazda Raceway Laguna Seca. With the throttle down, the rear can slide into power oversteer but it's controllable. Cornering grip is outstanding.
The huge brakes feel firm as they slow the car at a mesmerizing rate, and we did not experience fade during repeated hard use.