2017 Mini Cooper Walk Around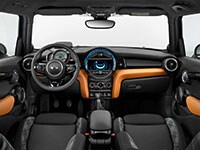 When the Mini Cooper was redesigned for 2014 it got bigger and longer, forward of the windshield, to meet new European crash-test standards for crush space. But it was barely noticeable. It grew 4.5 inches longer and 1.7 inches wider, while being a mere 0.3 inches taller. The result is charming and exceptional.
Traditional Mini design endures. Oval lights in the top corners of the front fenders, oblong grille in a chrome frame, upright windshield, almost-square taillghts, black pillars under a long roof, available in white. Mini says it's the most popular option.
The Convertible is handsome, with its rear flip-down tailgate it looks like a roadster.
Interior
Changes in the interior of the 2017 Mini Cooper are largely for the better. It's still a bit quirky but not as quirky as it used to be; the good quirks remain and most of the bad ones are gone. At least the instruments are where you expect them to be. A big tach with smaller speedo are mounted behind the steering wheel. The design of the interior is relatively useful and meaningful.
The big round center of the dash is exclusively a display screen, its size depending on trim. There are two rectangular air vents and two large round eyeball vents at the outer edges of the dash. There's still a horizontal row of switches in the central lower dash, under three dials for climate control.
Switchgear gremlins live in the Convertible; if it heats up in the direct sun, the roof won't raise for shade. Presumably until it cools down.
The interior is relatively good for front passengers, but not so much for rear passengers or cargo. Passengers sit deep, surrounded by quite a lot of black trim and upholstery.
The four-door Mini can shuttle four adults in a pinch, but only the Clubman model, about the same size of four-door Volkswagen Golf, is much of a people mover.
The Convertible is realistically a two-seater.
From the driver's seat, the Mini is close to perfect. There's head room for persons as much as 6 feet, 3 inches tall.
There's a nice amount of engine noise in the cabin. The Cooper S pipes it in. The three-cylinder has an uneven idle we found endearing, strangely. It sounds like a Freightliner at cold start. Character.
With the rear seat up there's 8.7 cubic feet of cargo space in the back, expanding to 38 cubic feet with the seat down. The Clubman raises it to 17.5 and 47.9 cubic feet.
Visibility isn't great. The roof pillars are thick, and the roof is 18 or 20 inches forward, in order to reach the upright windshield pillars. With the top down and folded in the Convertible, rear visibility is nearly non-existent.