2017 Mini Cooper Introduction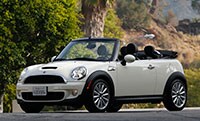 The Mini Cooper name represents a range of a front-wheel-drive compacts that deliver individual styling along with great handling that makes them fun to drive
The 2017 Mini Cooper lineup includes the classic Hardtop 2 Door, the Hardtop 4 Door, the soft-top Convertible, and the four-door Clubman with all-wheel drive and barn doors at the rear. They vary in length. The three-door hardtop, or hatch, is 150.4 inches long. The four-door is 156.8 inches, and the Clubman is 168.3 inches long.
Base engine is a turbocharged 1.5-liter three-cylinder making 124 horsepower. The Cooper S engine is a turbocharged 2.0-liter four-cylinder making 189 horsepower. There's also a John Cooper Works version of that engine making 228 horsepower. Each uses either a 6-speed manual or automatic transmission, we prefer the former.
The standard Mini Cooper with manual transmission gets an EPA-estimated 28/38 miles per gallon City/Highway, or and 32 mpg Combined city and highway. Cooper S is rated 23/32/26 mpg with the manual. The powerful John Cooper Works gets 23/31/26 mpg. The Convertible S gets the same, but with automatic is rated higher. All Mini Coopers require Premium gasoline.
Our preference is for the Hardtop 2 Door, as it is the classic Mini Cooper and a delight to drive.
During our test drives, we got about 25 miles per gallon in both the Mini Cooper and Cooper S, including a lot of spirited driving through canyon twisties. Out on the interstate, we got up to 40 mpg.
Mini Coopers are smaller and less practical than many hatchbacks that cost far less (the Clubman is the exception to this). The latest model, redesigned for 2014 (when it gained several hundred pounds), is built on the same platform as the BMW X1, and will eventually underpin up to 10 Mini models as well as a BMW sedan.
The Mini Cooper got the best safety rating from the insurance industry (IIHS) in 2016, with a Top Safety Pick+. However the federal government's NHTSA doesn't agree, giving the Mini only four stars overall.