2017 Mercedes-Benz E-Class Introduction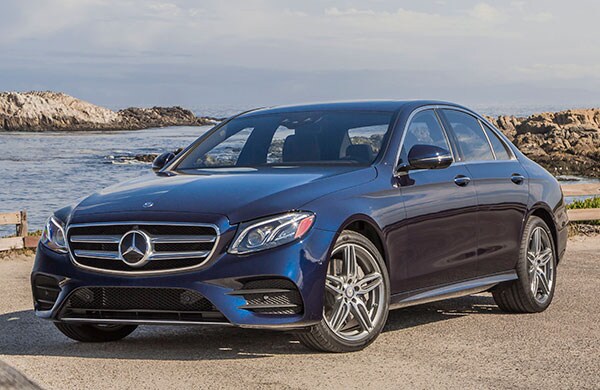 The 2017 Mercedes-Benz E 300 sedan is all new. It's bigger, better looking, more efficient and more substantial than before. It's more technologically advanced than the flagship S-Class, with more infotainment and safety equipment. The E 300 can practically drive itself.
Competitors like the Audi A6, BMW 5 Series, Lexus GS, Jaguar XF, and Cadillac CTS can't do that, although the American Tesla Model S can.
The 2017 E 300 sedan is the first of the all-new E-Class. It will be followed by an all-new 2017 E-Class Wagon. The E-Class coupe and convertible continue in the form of the previous generation. We have seat time in the new E 300 in heavy traffic outside Lisbon, Portugal, and freeway traffic outside San Francisco.
The new Mercedes-Benz E-Class sedan grows by 1.7 inches to 193.8 inches long, with a wheelbase that's 2.6 inches longer, at 115.7 inches. It weighs about two tons, and would weigh more if it weren't for the body's aluminum panels and higher-strength steel.
For now, the new E-Class sedan has just one engine and transmission, the E 300 with a 2.0-liter turbocharged four-cylinder making 241 horsepower and 273 pound-feet of torque, mated to a 9-speed automatic. Rear-wheel drive is standard, 4MATIC all-wheel drive available.
The 2017 E 300 is fairly quick, able to accelerate from zero to sixty in 6.2 seconds (on the way to 130 mph), but it's also gruff. The outgoing silky V6 engine the four-cylinder turbo replaces will be missed.
Two suspensions are available for the E 300, and the handling varies with them. There is a firm multi-link suspension with adaptive dampers in either base or sport (firmer) tune, or an air suspension with adaptive dampers. In addition to that, the wheel sizes range from 17 to 20 inches, mounted with different tires.
Driving systems with modes are also available: economy, comfort, sport and sport plus, that alter the suspension, steering, transmission, and throttle.