2017 Mercedes-Benz CLA-Class Walk Around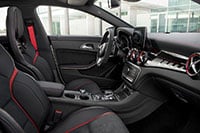 The CLA 250 presents a dramatic shape, with an arc-like profile from a radically raked windshield and back glass, over a high beltline and around curved fenders to a low nose and tail. There are no upright frames in the side glass to break up the swoop. The result of all this is a coefficient of drag that's just 0.23, helped by aero shields under the car.
Meanwhile, the CLA45 AMG takes the same shape and makes it look like a street fighter. The already big front air intakes yawn wider, and the CLA 250's mesh grill gets replaced by two silver blades.
Interior
The interior matches the exterior for swoop and drama. The only problem is that on the exterior, swoop is aerodynamically efficient, but on the inside it just wastes space, or at least prevents opportunities to use it. For example, the sexy roofline reduces back-seat utility, along with rearward visibility, with the pinched view in the mirror compounded by the lip spoiler and uplifted rear deck.
There's not much room in the rear, and the slim doors make it difficult to climb in and out. Legroom and headroom are limited and it's no place for old men. But there are a lot of small storage bins and trays.
A big LCD rises from the low dash, which some love and some hate. It's been made smaller for 2017. The rest of the dash feels inspired by consumer electronics. It's crisp and modern, with graphics on various screens that are clear.
The new trims for 2017 include something Mercedes calls sail-look, black Dinamica micro fiber, and more traditional matte black ash wood.