2017 Mercedes-Benz CLA-Class Introduction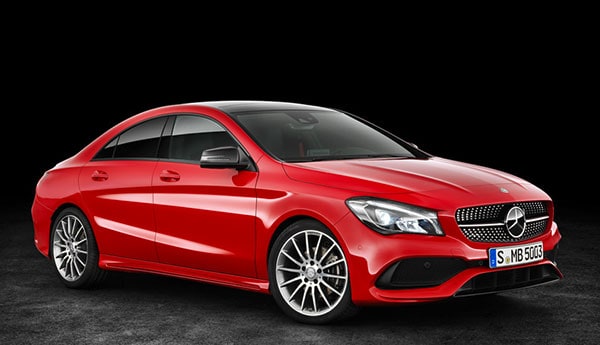 The 2017 Mercedes-Benz CLA boasts styling changes. Now in its fourth year, the CLA is an entry-level luxury car. The smallest sedan that wears the Mercedes-Benz badge, it looks more like a coupe than a sedan and is shaped like the larger CLS, which is referred to as a four-door coupe.
The 2017 CLA sports new bumpers, a new front fascia with expressive air intakes, LED headlamps and taillamps, and a new rear spoiler. The styling updates scratch the surface of relative flamboyance and make its chief rival, the Audi A3, look downright dowdy. More changes for the 2017 CLA include new upholstery, trim, and gauges with red needles.
The entry CLA is the Mercedes-Benz CLA 250 with solid and economical performance from a 208-horsepower, turbocharged 2.0-liter four-cylinder engine with a strong 254 pound-feet of torque, mated to a 7-speed dual-clutch automatic transmission.
The engine is mounted transversely, with front-wheel drive standard, making the CLA 250 the first front-wheel-drive Mercedes-Benz sedan ever sold in the U.S. All-wheel drive is optional. The CLA 250 can accelerate to 60 miles per hour in less than seven seconds, and it gets an EPA-rated 26/38 miles per gallon City/Highway, or 30 mpg Combined. With all-wheel drive it's three miles per gallon lower.
The CLA45 AMG ups the performance by a ton. It's the hot rod, as any AMG is, designed for the enthusiast. It uses the same basic 2.0-liter turbocharged engine, pumped up to an amazing 375 horsepower and 350 pound-feet of torque. (We wonder whether the CLA 250 is super-durable because it's apparently so under-stressed.) A vast number of mechanical parts on the CLA45 AMG have been strengthened or in some way improved, including the 7-speed dual-clutch transmission. It's all-wheel drive. It will zoom to 60 in just 4.1 seconds.
Curiously, although they both use a 7-speed transmission, neither car comes standard with paddle shifters, they're optional, for both. The CLA 250 uses a retro column selector, and the AMG shifts on the console.