2017 Mercedes-Benz CLA-Class Driving Impressions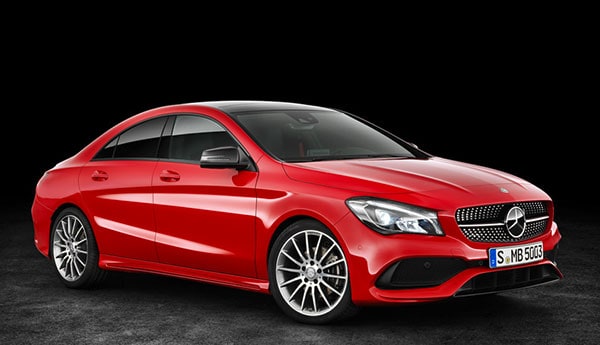 When normal mode is selected, the CLA 250's dual-clutch 7-speed automatic transmission can act like it's caught off guard when you hammer the throttle, as if it's not programmed to accept that sort of behavior in the modest car. So put it in Sport mode if that's what you plan to do. This lag might be a result of the pursuit of fuel mileage, with programming to keep the transmission in higher gears that use lower rpm.
The CLA 250 rides with a firm, heavy and planted feeling, like a Mercedes-Benz, in other words. Its steering feels tightly tuned, again like a Mercedes-Benz. The steering is nicely weighted and the response is quick, getting heavier and quicker as cornering speed increases. Feedback is minimal and typical electric-steering numbness survives. It corners flat. The standard run-flat 17-inch tires deliver a ride that's reasonably compliant but sometimes unsettled. Eighteen-inchers are available, which might settle things and will probably change the steering. If you're going to corner the CLA 250 hard, we'd say choose the all-wheel drive for $2000.
The CLA45 AMG feels totally different, even without the available AMG sport suspension package. It corners flatter than the flat of the CLA 250, without feeling any harsher on rough surfaces. The 7-speed dual clutch transmission shifts sharper and more aggressively, meaning more often. The all-wheel drive starts out driving the front wheels but shifts to as much as 50 percent in the rear when traction is needed at the rear wheels, which might be often if you drive hard and pitch it around. When it gets to 50/50 it's like a Subaru (a leader in all-wheel drive technology).
Of course there's no reason the CLA45 AMG should feel like the CLA 250, because its steering, suspension and brakes are different. The steering has a quicker ratio and its suspension sits one inch lower and one-half inch wider, with three links and stiffer bearings at each front wheel, to handle the tremendous torque. The front anti-roll bar is fatter. At the rear, there are four links, coil springs, a body-mounted subframe, another fatter anti-roll bar, and 18-inch wheels (19-inch optional). The electronic stability system includes torque vectoring, adjusting the braking and power to each wheel to assist traction at the wheel during cornering.
The result is powerful acceleration and eye-popping grip with totally neutral handling with zero understeer and undetectable torque steer. And if you want to play drag racer, there's Racestart launch control, to keep the tires from spinning when you floor it from a standing start.