2017 Lincoln MKZ Walk Around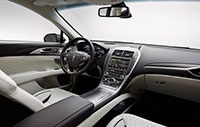 The new mesh grille, although classier in its understatement, is a bit of a loss, as the old twin-wing grille with vertical bars paid homage to the original 1938 Lincoln Zephyr. At its center is the Lincoln four-point star, with the soft-edged trapezoidal grille bordered by thin LED headlamps wrapping inward.
The overall design is daring while being a bit curious in its lack of glitz and glamour. It emanates character. It's smooth from the nose to the deck lid, almost a fastback like the Audi A7.
Interior
Compared to some other luxury cars, the interior might be seen as spartan. That is, unless you get the optional panoramic sunroof that opens up a vast 15 square feet to the sky, the most of any car in the world, says Lincoln.
Spartan is European. The standard upholstery is fabric. There's still a lot of real wood.
The Black Label has supple leather sewn in diamond patterns, and it feels luxurious. As long as you don't look at the plastic panels and buttons on the dashboard.
Because there's no shift lever, the console has more space for storage. The MKZ copies Volvo's good idea with storage behind the console, but it's harder to reach.
The main screen dominates the instrument panel, mounted low and wrapped in metallic trim. It's not as bad as it sounds; it suits the cohesive arrangement of the gauges, and their glow. But it's a good thing there are redundant steering-wheel controls, because the Lincoln system is maddening. There's also voice command, but don't expect your Lincoln to obey your commands.
We got seat time in a Black Label, and it was interesting "seat" time, as the front seats are
sporty: slightly firm, narrow but not too narrow, and well bolstered. They go pretty far, with cushions that inflate and deflate depending on the G-forces in the corner, and frankly all that accomplished was distraction. Goosed while driving. We wish we could have gotten seat time in the sleeker and less ambitious standard seats.
The MKZ doesn't offer expansive legroom like the Lexus ES, or even as much as less expansive competitors. Meanwhile the rakish roofline steals headroom; there's less than the Fusion, which isn't exactly ample itself.
The trunk holds 15.4 cubic feet, a bit above average.