2017 Lincoln MKZ Introduction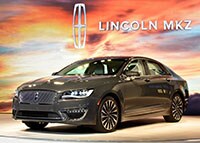 The Lincoln MKZ is built on the Ford Fusion platform, but don't hold that against it too much, as nowadays it's not uncommon for a luxury car to be built on the underpinnings of a standard sedan. It's still sporty, responsive, enthusiastic and entertaining (although that too is something that might be said of a good standard sedan). It's not the flagship of the Lincoln line; that would be the larger Continental that was just launched in 2017. Competitors include the Lexus ES.
Naturally, the MKZ offers more, such as available Lincoln Drive Control, with three modes to set the dampers, steering response, and stability control; it also has active noise cancellation to help build luxury silence in the cabin. Front-wheel drive is standard, with all-wheel drive available.
The 2017 MKZ gets a new nose to bring back some elegant conservatism, after trying to look aggressive for a few years, since its debut it 2013 to be exact. With its fastback profile and the new mesh grille, it looks Jaguar-esque.
The 2017 MKZ also gets a more refined V6 with more horsepower. It's a 3.0-liter twin-turbocharged EcoBoost making 400 horsepower and 400 pound-feet of torque with all-wheel drive, or 350 horsepower and 400 pound-feet with front-wheel drive. It's mated to a six-speed automatic, and gets 20 miles per gallon with all-wheel drive. Available with this engine is a Driver's Package that includes Dynamic Torque Vectoring to tighten cornering, and an active sport-tuned suspension.
Base engine is a 2.0-liter turbocharged four-cylinder making 240 or 245 horsepower, with all-wheel drive or front-wheel drive. It gets 24 miles per gallon combined with front-wheel drive. There's also a front-wheel-drive Hybrid model, a 2.0-liter four with two motors driven by a lithium-ion battery pack. It gets 40 miles per gallon combined, using a CVT transmission.
There are some changes in the cabin as well. The push-button gear selector remains, but the unpopular capacitive sliders have been replaced by more conventional and satisfying knobs and switches, unfortunately in conspicuous plastic. The MKZ gets an upscale version of Ford's latest Sync 3 interface for infotainment and connectivity.