2017 Lincoln MKX Driving Impressions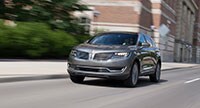 Except for the irksome pushbutton shifter, performance is strong and satisfying with either V6 engine. Each provides smooth power flow. Even with all-wheel drive, the standard 3.7-liter V6 propels the MKX adequately. Still, the twin-turbo V6 feels stronger and might be worth the $2,000 premium. Acceleration to 60 mph with the 2.7-liter V6 takes about six seconds, a quick performance.
Gear ratios in the 6-speed automatic feel correct, and it delivers clean, quick downshifts. Sport mode allows using paddle shifters to drop down by more than one gear, without harshness or delay.
Adaptive shock absorbers and a carefully controlled suspension yield an absorbent, well-composed ride, along with top-notch road manners, even in Sport model with bigger tires. Patchy pavement seldom causes harsh reactions, while steering is impressively accurate.
On all-wheel-drive models, Lincoln Drive Control provides Normal, Sport, and Comfort modes. Front-drive versions automatically set the suspension damping.
Optional variable-ratio steering can alter the level of power assistance, based on steering-wheel rotation. Amount of boost diminishes at higher speeds to improve stability, but increases at low speeds to ease parking.
Gas mileage isn't great. With the 3.7-liter V6 and front-drive, the MKX is EPA-rated at 17/25 mpg City/Highway, or 20 mpg Combined. All-wheel drive sinks those figures to 16/23 mpg City/Highway, or 19 mpg Combined. The 2.7-liter twin-turbo V6 is EPA-rated at 18/25 mpg City/Highway with front-drive, and 17/24 mpg City/Highway with all-wheel drive.