2017 Lincoln MKT Walk Around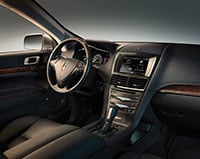 From the rear, it's easy to spot an MKT, which flaunts a bulbous, heavy-looking tail end.
Up front, squinting your eyes might reveal a hint of the cowcatcher on an antique steam locomotive. Several design elements are reminiscent of Lincoln's lavish, stretched-out sedans from the 1960s.
Even though seven years have passed since the MKT's debut, its styling stills seems audacious. Beneath the surface, on the other hand, lies a foundation based upon the strictly boxy Ford Flex crossover model.
Interior
Peek inside an MKT and you might experience a sense of darkness, but supremely supportive seats await. Two seating configurations are available: seven-passenger, with a bench in the second row; or six-passenger, which substitutes a pair of bucket-style captain's chairs in that row. Both versions include a two-place bench in the third row.
Passengers in either the front or second row can expect remarkable support, as well as open space in all directions. Front seats, in particular, promise a pleasant experience on long Interstate journeys. Even though those seats feel as soft as pillows, that gentleness conceals a substantial level of firmness within the cushion structure. A broad range of adjustments helps the occupant find an ideal driving position.
Rear doors open wide, and adults in the second row can expect abundant leg space. Getting into the third row, on the other hand, presents quite a challenge, at least for grown-ups.
Lincoln's SYNC3 infotainment system dominates the center of the instrument panel, where capacitive-touch controls substitute for traditional switches and knobs. A configurable gauge cluster ahead of the driver displays a variety of data, including navigation details.
Cargo volume is about equivalent to the volume of a big sedan's trunk. Folding down the second-row seats creates a load floor that's nearly flat, while providing about 76 cubic feet of space, a bit small for a vehicle in this category.