2017 Lincoln MKT Driving Impressions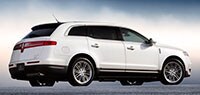 With the EcoBoost V6 underhood, power delivery is smooth and eager, even emitting a slightly sporty engine sound. Though not as potent as the EcoBoost, the base 3.7-liter V6 is stronger than might be expected.
Ride and handling capabilities are appealing, creating a nicely controlled road experience, even when the driver turns off the Interstate and heads down some rural two-lane roads. With its impressively capable suspension complementing the muscular engine, an MKT can cope with considerable harshness, as found on any sort of imperfect pavement surface.
Still, the MKT is undeniably a large and long vehicle. That means certain corners, urban or otherwise, are sure to be a bit too tight for comfort. In this area, the EcoBoost model may be a wiser choice, simply because it includes three-mode damping control for the suspension. When used effectively, the suspension can react swiftly as road-surface conditions change.
No one is likely to expect great fuel economy from a vehicle with the MKT's dimensions and weight. With the base 3.7-liter V6, the MKT is EPA-rated at 16/24 mpg City/Highway, or 19 mpg Combined. Picking the EcoBoost engine with all-wheel drive drops the EPA's estimate to 15/21 mpg City/Highway, or 17 mpg Combined.