2017 Lexus RC Introduction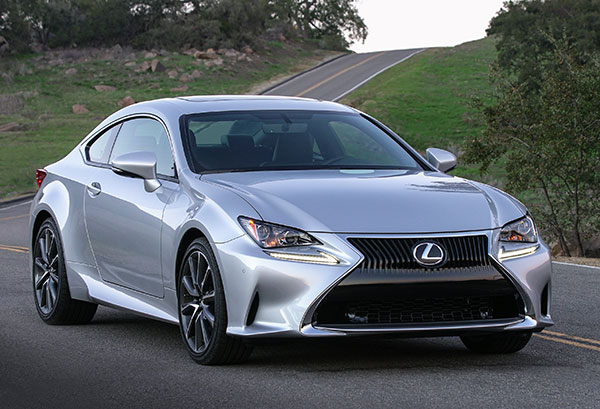 The Lexus RC is a rear-wheel-drive luxury sport coupe that feels right for swift jaunts on country roads, and it's available with all-wheel drive. The RC is almost three inches shorter than the smallest Lexus sedan, the IS, but more than one inch wider. It aspires to the BMW 4 Series, Audi A5, Mercedes-Benz C-Class, and Cadillac ATS coupe, though it's not quite on their level.
Like its close siblings the IS and GS sedans, the Lexus RC uses a double-wishbone front and multi-link rear suspension tuned on the firm side, but suitably compliant for casual driving. It might not be ready for aggressive cornering, but it hits the right balance of ride and handling for this class. Meanwhile the electric power steering feels settled and quick.
The RC 200 Turbo is the most affordable, in sticker price and fuel economy, but you pay for it with time, zero to sixty in 7.3 seconds, not slow but not quick for a sport coupe, and there's quite a bit of turbo lag from the turbocharged four-cylinder engine.
The RC 300 gets to 60 mph in one less second, or 6.3 seconds, which is quick, and comes standard with all-wheel drive.
RC 350 comes with a more powerful 306-horsepower V6 that delivers good grunting noises.
The RC F is designed to go after the BMW M4 and Audi S4, with its 5.0-liter V8 rippling with 467 horsepower. It blasts the coupe to 60 miles per hour in 4.4 seconds and 170 top speed. It uses an eight-speed automatic with paddle shifters, and four modes. For traction it's got Michelin Pilot Super Sport tires and a Torsen limited-slip differential. For handling and stopping it's got 19-inch wheels and tires, firmer bushings and roll bars and bigger Brembo brakes. We've had it on the track, where it's happy and composed. We like the firmer ride from the adaptive dampers, but we're not sold on the variable-ratio steering and rear-wheel steering.
The IIHS calls the 2017 Lexus RC a Top Safety Pick Plus, with all Good marks and an Advanced rating for front crash protection, with the optional safety equipment, including emergency self-braking.
The RC 200 Turbo rates 22 miles per gallon City/32 mpg Highway and 26 mpg Combined by the EPA. The RC F sinks to 16/25/19 mpg, which is good considering s 3958 pounds and big horsepower.