2017 Lexus GS Introduction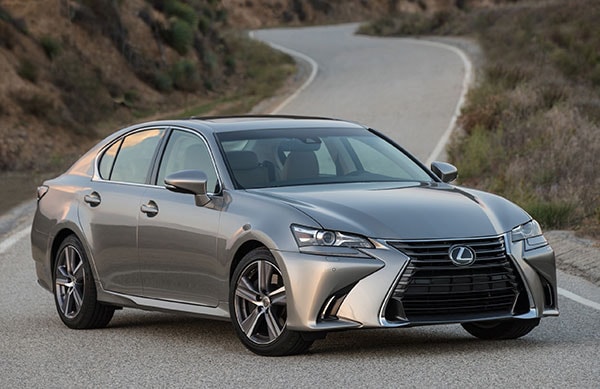 The Lexus GS is a rear-wheel-drive sports sedan, unlike the front-wheel-drive ES near-luxury family sedan. The Lexus GS competes with the Mercedes-Benz E Class, BMW 5 Series, Audi A6, and Infiniti Q70. Last redesigned for 2013, it has come with a range of engines that change its character, from V6 to V8 to hybrid.
The 2017 Lexus GS lineup includes a new model, the GS Turbo, sometimes referred to as the GS 200t, with a turbocharged 2.0-liter four-cylinder engine that Lexus uses in the RC sport coupe and NX crossover. The GS Turbo costs a bit less and gets a bit better fuel mileage than the other GS models.
The GS Turbo is EPA rated at 29/34 mpg City/Highway, or 31 mpg Combined. All GS models require Premium gasoline. The new engine makes 241 horsepower and 258 pound-feet of torque, uses an eight-speed automatic transmission, and isn't particularly quick: zero to 60 in 7.2 seconds, just okay. We found quite a bit of turbo lag when we stepped on the gas pedal, as apparently the Turbo needs to spin up to speed and the transmission has to decide what to do. Fortunately the eight-speed has paddle shifters, and a flick of the wrist snaps the transmission into gear.
The GS 350 uses 3.5-liter V6 that makes 311 horsepower with the paddle-shifting eight-speed automatic, and feels more like a sports sedan. All-wheel drive is available, which uses an older six-speed automatic. The GS 350 can hit 60 mph in a quick 5.7 seconds, and gets 23 miles per gallon Combined.
The GS 450h hybrid is quicker than either the GS Turbo or GS 350, as well as being more fuel efficient. With 286 horsepower and 257-pound feet of torque, the GS 450h accelerates to 60 in a very quick 5.5 seconds, and gets 31 miles per gallon Combined. It doesn't feel particularly sporty, but the F Sport model ups the game a bit. Its main competitor might be the Acura RLX Sport Hybrid SH-AWD. Others include the Mercedes-Benz E-Class Bluetec or BMW 528d, both diesels that get better highway mileage than the GS 450h's 29/34 mpg City/Highway.
F Sport versions of these models include a sports suspension, upgraded features, and special interior and exterior trim.
Finally there is the hot one, the Lexus GS F sedan that competes with the BMW M5, Mercedes-Benz E63 AMG, Cadillac CTS-V, and Audi RS 7. GS F uses a 467-horsepower 5.0-liter V8 with 389 pound-feet of torque. With both direct injection and port injection, running on both the Otto and Atkinson cycles, it gets an EPA-rated 19 miles per gallon Combined, pretty darn good for 467 horsepower.
Since it is a Lexus, after all, the list of standard equipment is rich, with things like 10-way power seats, leather in lovely shades, 10 airbags, rearview camera, satellite radio, iPod, Bluetooth with audio streaming, and Remote Touch, the mouse-like controller. Options include active cruise control with emergency braking, a head-up display, and night vision.
The Insurance Institute for Highway Safety gives the GS Good ratings for roof strength, and side and moderate-overlap frontal impacts.