2017 Land Rover Range Rover Introduction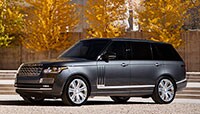 Range Rover is the biggest member of the Land Rover family, the flagship for the brand, a luxurious sport-utility vehicle with a breadth of capability allowing it to excel in conditions ranging from slippery, rugged terrain to high speeds on dry or wet highways.
New for the model year is the 2017 Range Rover SV Autobiography Dynamic debuts, evolved from the previous SV Autobiography. Also, 2017 Range Rovers come with a new 10.2-inch dual-view touchscreen display. Advanced Tow Assist and Low Traction Launch are new for 2017. A new system can read speed-limit signs and, if cruise control is active, adjust vehicle speed accordingly.
Building upon its heritage, the current generation, launched as a 2012 model, delivers posh amenities, on-road performance, or off-road potential that few, if any, vehicles can match. The Range Rover is larger than the Range Rover Sport or the small Evoque.
Range Rover buyers get four engine choices: a V6, two V8s, and a turbodiesel. The gasoline engines are supercharged. In the short-wheelbase model, the standard 3.0-liter V6 develops 340 horsepower (380 in HSE trim). Supercharged and Autobiography models, with a choice of standard or extended wheelbase, upgrade to a 5.0-liter V8, rated at 510 horsepower. Topping the gas-engine lineup is a 550-horsepower version of the V8, in the new SV Autobiography Dynamic. Yielding 502 pound-feet of torque, it's the most powerful Range Rover ever produced for sale.
The 3.0-liter turbodiesel V6 may be even more impressive, generating a burly 443 pound-feet while achieving an EPA-estimated 28 mpg on its Highway cycle. Diesel performance is comparable to the gasoline V6.
All four engines mate with an 8-speed automatic transmission. Permanent four-wheel drive incorporates multi-mode traction control. A Terrain Response 2 system is grouped with convenience features in an optional Vision Assist package. Included in that group is an automatic mode for the traction control system, which can actually predict the grip capacity of the surface ahead and respond appropriately.
Neither the National Highway Traffic Safety Administration nor the Insurance Institute for Highway Safety has crash-tested the Range Rover. Safety is clearly helped by the SUV's exceedingly stiff structure, achieved by gluing and then riveting its aircraft-type aluminum sections.
All Range Rovers include a surround-view camera system and automatic emergency braking. Optional safety features on HSE and Supercharged include blind-spot monitoring, lane keep assist, adaptive cruise control, and an automatic parking assistant. Autobiography models get the complete suite of safety technology.