2017 Land Rover Discovery Introduction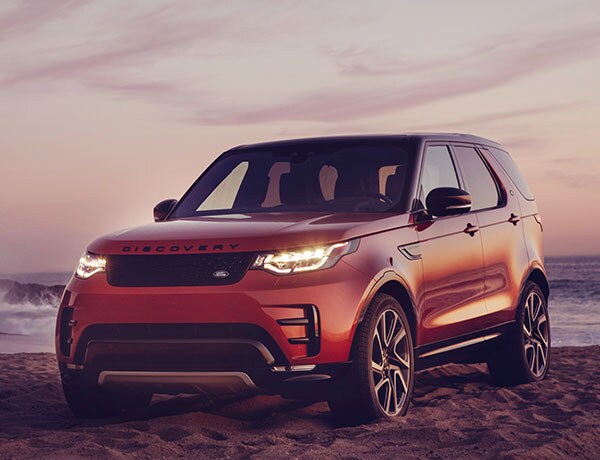 The Land Rover Discovery is all-new for 2017, supplanting the previous-generation LR4. In the relatively recent history of the British Land Rover company, the Discovery occupied a prominent, indeed iconic, position. Last called Discovery in the U.S. for 2004, it was renamed LR3 then LR4. Now, for the 2017 model year, the Discovery nameplate has re-emerged.
Following the same basic design as the Discovery Sport that debuted for 2015, the larger Discovery is built upon a totally different platform. Longer and wider, it presents a more imposing stance. Sharp angles and flat body panels of previous models are gone. Instead, the 2017 Discovery exhibits a softer profile, more crossover than SUV in character. The Discovery is in fact a close relative of the big, aluminum-bodied Range Rover.
In addition to providing seating comfort for up to seven passengers, the Discovery stands ready to deliver impeccable behavior. Whether off-road or on pavement, drivers can expect the sort of experience for which the brand has long been heralded.
Three trim levels are offered: SE, HSE, and HSE Luxury. Early-production models may be fitted with a First Edition package.
Buyers can select either a gasoline or diesel engine. The gas version is a supercharged 3.0-liter V6, seen in previous models, rated at 340 horsepower and 332 pound-feet of torque. Four-wheel drive is standard, coupled to an 8-speed automatic transmission.
For HSE or HSE Luxury models, an additional $2,000 buys a 3.0-liter turbodiesel V6, ready to generate 254 horsepower and a 443 pound-feet wallop of torque. With its resounding low-end vigor, the diesel performs especially well. SE and First Editions come only with the gasoline V6.
Available safety features include automatic emergency braking, blind-spot monitoring, lane-departure warning, and adaptive cruise control. One optional system can nudge the vehicle into its proper lane, in case drifting is detected. Another system can read speed-limit signs.
All models can be equipped with a surround-view camera system. Off-road, it can alert the driver to rocks and boulders ahead. We recommend getting it.