2017 Land Rover Discovery Sport Driving Impressions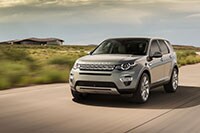 Land Rover blends road tenacity with offroad ability like no other brand. The stocky 2.0-liter turbocharged engine, making 240 horsepower and 251 pound-feet of torque at just 1750 rpm, is responsive and confident. The broad torque curve helps the Discovery Sport feel peppier than it actually is. It's as comfortable on the freeway as it is rock crawling on trails.
The paddleshifting 9-speed automatic can launch in second gear for smoothness and skip gears if necessary, for example when you floor and it shifts down. It can be a little busy as it sorts through gears, but it's mostly unobtrusive. Speaking of unobtrusive, we found the standard engine stop-start system to be relatively smooth.
The suspension is front struts and rear links, both mounted to subframes for isolation from noise and vibration. The electric power steering has a variable ratio to improve on-center response. There's not much feedback but it's nicely weighted. It's confident on a curvy road and unwinds predictably. Big disc brakes on all four wheels provide terrific finesse and a firm pedal feel at speed. The brakes stop the weight of nearly 4000 pounds just fine.
The suspension allows more travel and more control during rebound than the Evoque, not surprising because the Evoque is intended to be less of an offroad vehicle. The traction control system with its modes decides which wheel gets the power. That might not be traditional off-roading, but it works. The Discovery Sport can handle a steep rocky climb. The weak link will be the tire sidewalls.
The Discovery Sport offers approach and departure angles of 25 and 31 degrees, along with 8.3 inches of ground clearance and a wading depth of nearly 24 inches. The maximum tilt angle and gradient angle are 27 and 45 degrees. That all translates to high capability over very difficult terrain. Through the Haldex 5 center-differential clutch pack and brake actuation at the individual wheels, the system can send torque to whichever wheel has the most traction, and up to 100 percent to either axle.
The Terrain Response system's modes affect throttle sensitivity, transmission response, differential behavior, steering weighting, and stability systems. It works with the Haldex 5 center-differential clutch pack and brake actuation to deliver torque to the wheel that has the grip to use it. We drove the Discovery Sport on some steep trails covered by snow and ice, rugged enough to challenge the car's angles, ground clearance, and traction systems. We found it to be not just very capable, but very easy to drive off-road.