2017 Kia Sedona Driving Impressions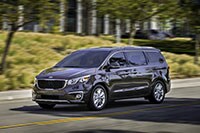 Ride comfort gets the greatest applause, as the Sedona's suspension irons out the impact of most imperfect pavement. Upper models with bigger tires still deliver a favorable ride.
Strings of bumps in the road can induce some bounciness. On the other hand, a Sedona shows almost no tendency to wander out of its lane while rolling down an Interstate.
A Sedona handles well enough in ordinary driving, especially at lower speeds. When pushed harder, the body tends to start rolling as well as pitching fore/aft, possibly causing passengers to feel a bit uneasy. Take a corner too briskly, and the tires just might begin to squeal in complaint.
Performance might not qualify as stirring, much less stimulating; but it's not disheartening, either. Although the 6-speed automatic has been around for a while, it behaves adequately. Still, the V6 is pulling quite a bit of weight. A Sedona is rated to tow up to 3,500 pounds. When also loaded with passengers and cargo, the engine might start to strain.
Overall, the 2017 Sedona feels a little like one of Chrysler's original minivans.
Fuel economy is around average, but varies a bit according to trim level. Most models are EPA-rated at 18/24 mpg City/Highway, or 20 mpg Combined. SX models do a tad better, because they use electric power steering rather than a hydraulic setup, as on lower trim levels. The SX is EPA-rated at 18/25 mpg City/Highway, or 21 mpg Combined. The SXL is heavier and abundantly equipped, dropping EPA figures to 17/22 mpg City/Highway, or 19 mpg Combined.