2017 Jaguar XF Introduction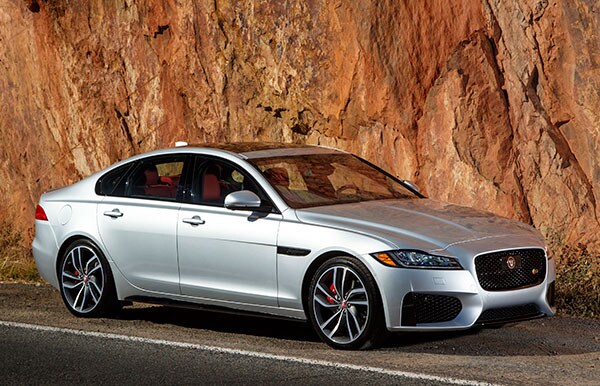 Sleek and elegant, the Jaguar XF sedan carries on the British motorcar-maker's long tradition of automotive beauty blended with sporty road behavior. Redesigned for the 2016 model year with aluminum body panels, it slots between the smaller XE and full-size XJ sedans.
The 2017 Jaguar XF makes available a new turbodiesel four-cylinder engine.
Configurable Dynamic technology, available on all XF models, lets the driver use a touchscreen to tailor throttle mapping, shift strategy, and steering feel. Rear-wheel drive is standard, but an all-wheel-drive system, adapted from Jaguar's F-Type sports car, is available. Upgraded infotainment includes InControl Touch smartphone connectivity with an 8.0-inch touchscreen, or a new version with larger display screens.
Styling might be less distinctive than previous XF sedans, but the current models handle with agility and are far roomier in the back than first-generation XFs.
Three engines are offered: 20d (the new turbodiesel four), 35t (3.0-liter V6), and S (more powerful V6). Base Premium, Prestige, and R-Sport trim levels are offered with the 20d or 35t powertrain.
Diesel engines have skidded in desirability, following the emissions-testing scandal surrounding Volkswagen's diesel models. Rather than retreat, Jaguar has chosen to launch its 2.0-liter, four-cylinder turbodiesel as a means to combine excellent fuel economy with wholly satisfying performance. The turbodiesel develops 180 horsepower and 318 pound-feet of torque.
Most XF buyers will likely opt for a supercharged 3.0-liter V6 instead, producing either 340 or 380 horsepower and 332 pound-feet. An 8-speed automatic transmission, with paddle shifters, can run rapidly through its gear range. Acceleration to 60 mph with the rear-drive, 380-horsepower version takes just 5.0 seconds, accompanied by typical V6 underhood sounds. A manual transmission is not available.
Balance is the XF's prime attribute. Suspension tuning is softer than in some competitors, for a supple ride. Adaptive dampers are available.
Steering is both light and direct, for easy handling. Selective driving modes can apply greater or less weight to the steering, as well as alter the transmission and throttle for faster responses. Traction control regulates brakes and throttle when starting off.
Available safety technology includes adaptive cruise control, blind-spot monitoring, surround-view cameras, full LED headlights, head-up display, and automatic parking assist. Autonomous braking uses cameras to detect obstacles and trigger a stop. Many safety features come only in upper trim levels. A rearview camera is not standard on the base XF.