2017 Jaguar XE Introduction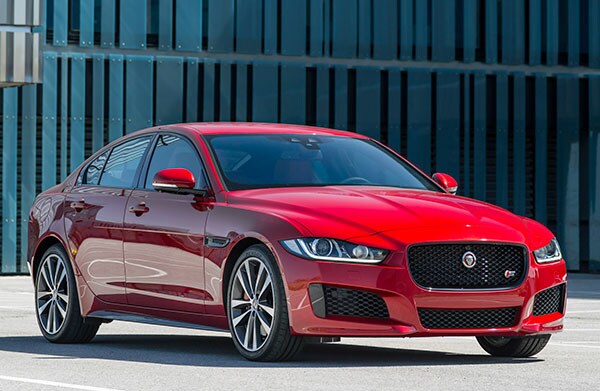 The Jaguar XE is the brand's new compact four-door, conceived and designed to be a serious challenger in a sport sedan market segment that's been defined and ruled for decades by the BMW 3 Series. This is the first time Jaguar has been a player in this arena since the X-Type (2001-2009).
Inspired by and developed from the superb F-Type sports car, the Jaguar XE's foundations are aluminum intensive and exemplary in terms of structural rigidity. Basically a rear-drive platform with the option of four-wheel drive, the architecture is shared with the new Jaguar F-Pace crossover sport-utility and will also be adapted for another sedan in the not-too-distant future.
Like the F-Type sports car, the Jaguar XE delivers that rare connection between the machine and the individual behind the wheel: the vehicle as an extension of the driver's will. Handling is excellent. This new Jaguar sedan is as quick on its feet as many sports cars.
At launch there are two engine options: a supercharged 3.0-liter V6 (340 horsepower, 332 pound-feet of torque) and a 2.0-liter turbodiesel four-cylinder (180 hp, 318 lb-ft), both sending power to the rear differential via an 8-speed automatic transmission. Jaguar plans to add a 2.0-liter turbocharged gasoline four-cylinder (240 hp, 251 lb-ft) later in the 2017 model year. All three engines will feature stop-start technology. Performance from the V6 is very quick, with 0-60 mph possible in about 4.5 seconds.
Like all new cars, the Jaguar XE offers a lengthy menu of infotainment features, operable in this instance by touch-screen controls augmented by voice command. There's also a comprehensive list of driver assist and safety features that's comparable to other cars in this entry luxury sports sedan category.
The new styling is clean but conservative, with distinctly sporty proportions, not much car extending beyond the front axle, a wide stance, and wheels that fill up the wheel wells. Jaguar's new signature grille distinguishes the front end, and the wide horizontal LED taillights emphasize the car's width and muscular haunches.
Fuel economy is an EPA-estimated 21/30 mpg City/Highway for the rear-wheel-drive supercharged 3.0-liter, 20/29 mpg with all-wheel drive. (We have yet to see formal EPA ratings for the turbodiesel, but Jaguar anticipates a highway rating of 40 mpg-plus.)