2017 Jaguar F-Type Introduction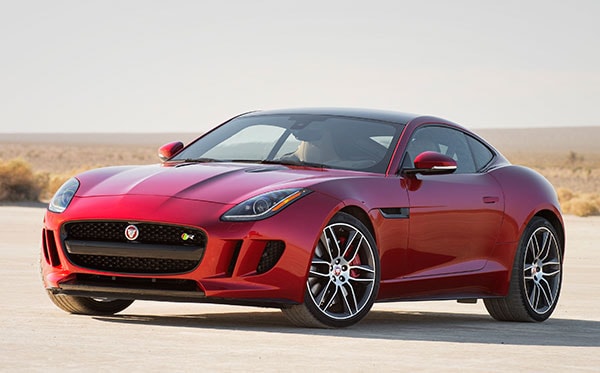 The Jaguar F-Type is a true-blue sports car and distinctly Jaguar. It comes as a coupe or convertible, each with heaps of character. The F-Type is a contender against the Corvette and Porsche 911, as well as the 718 Boxster and Cayman.
The lineup has expanded since its introduction for 2014, with an F-Type R model, available all-wheel drive, and a manual gearbox added over the past couple of years.
New for 2017: Jaguar F-Type SVR. With 575 horsepower, it's the fastest Jaguar since the XJ220 supercar.
Four engine types are available, two V6s of a design that's been around a few years, and two V8s; all four are supercharged.
All-wheel drive is standard with the V8 and optional with the V6.
The standard 3.0-liter supercharged V6 makes 340 horsepower, sufficient able to accelerate from zero to sixty in 5.1 seconds and hit 161 miles per hour. Next is the F-Type S with the same engine making 380 horsepower that can accelerate from zero to sixty in 4.8 seconds and can reach a top speed of 171 miles per hour. The V6 models sound a little coarse under acceleration, with the whine of the supercharger subdued to the point where it's drowned by engine noise.
The F-Type R uses a 5.0-liter supercharged V8 making 550 horsepower that accelerates from zero to sixty in 3.9 seconds, with a top speed of 186 miles per hour. Optional sports exhaust makes it sound throaty like a V8 Mustang. The Coupe R and Convertible R are two of the best sports cars on the road today.
The new F-Type SVR makes 575 horsepower and 516 pound-feet of torque, dropping the 0-60 time to 3.5 seconds and raising the top speed to 200 miles per hour. There's lots of carbon-fiber trim, and a titanium exhaust system makes the engine downright raucous. Starting it on a cold morning produces a sound akin to a tearing a massive telephone book in half. Its suspension and steering are tuned for performance, while carbon-ceramic brakes are available. It needs a track to be pushed.
The 8-speed automatic transmission with paddle shifters is just about the best automatic we know (that isn't a twin-clutch). If you must have an old-school manual gearbox, you'll have to stick to the base 340-hp F-Type with rear-wheel drive. It's good but the sweet automatic is more efficient, able to shift faster and bring higher fuel mileage, achieving an EPA-estimated 23 miles per gallon Combined in the base V6.